When the weather has been dark and dreary for months, you can count on these flowers that bloom in winter to cheer you up!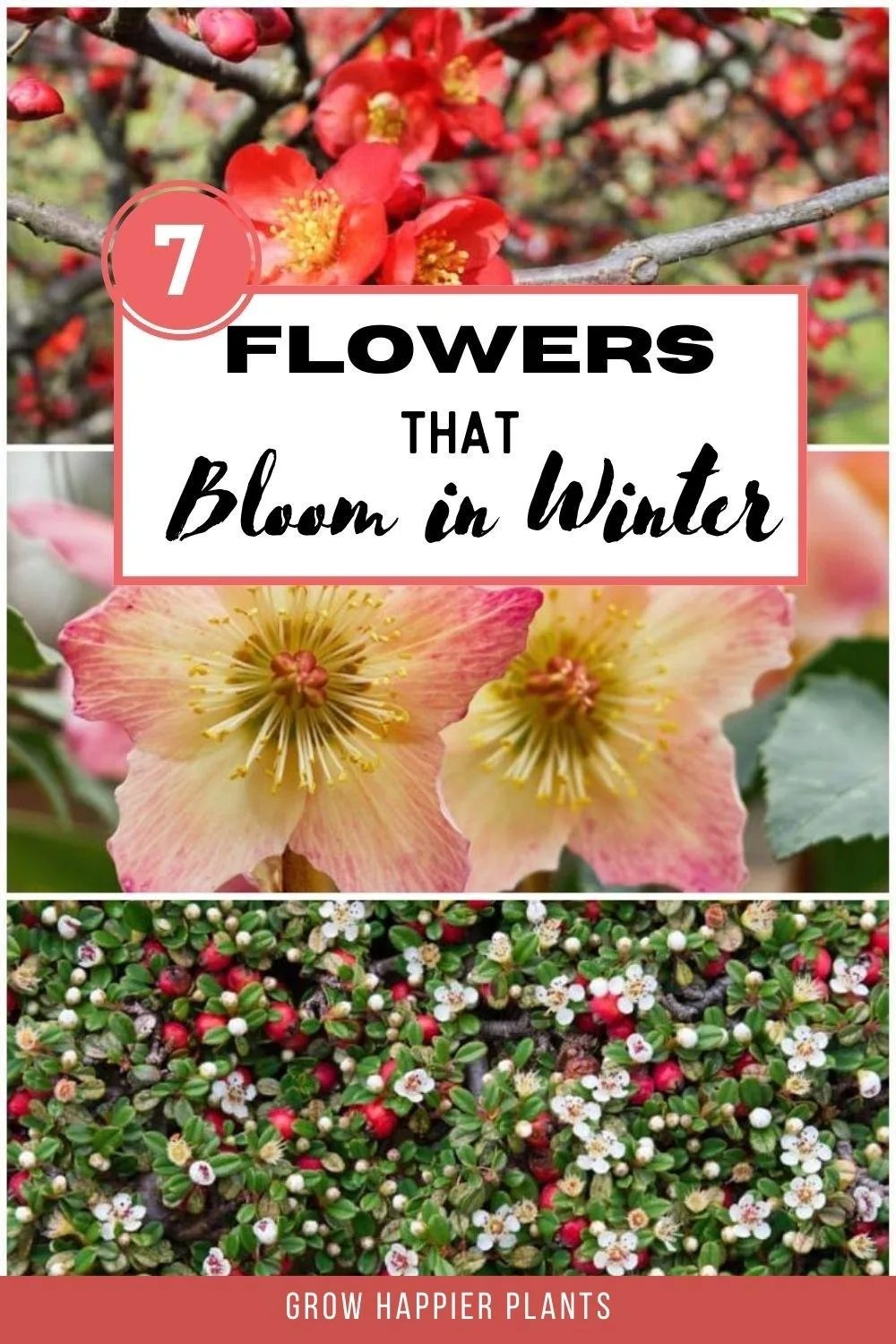 The cold winter months can be so dreary and drab, but that doesn't mean your garden needs to be! Did you know that there are a variety of beautiful flowers that bloom in winter? Plant a few of these in your garden for a pop of color in gloomy weather!
This post contains affiliate links for your convenience. Purchases made through these links may earn me a small commission at no additional cost to you.
Flowering Quince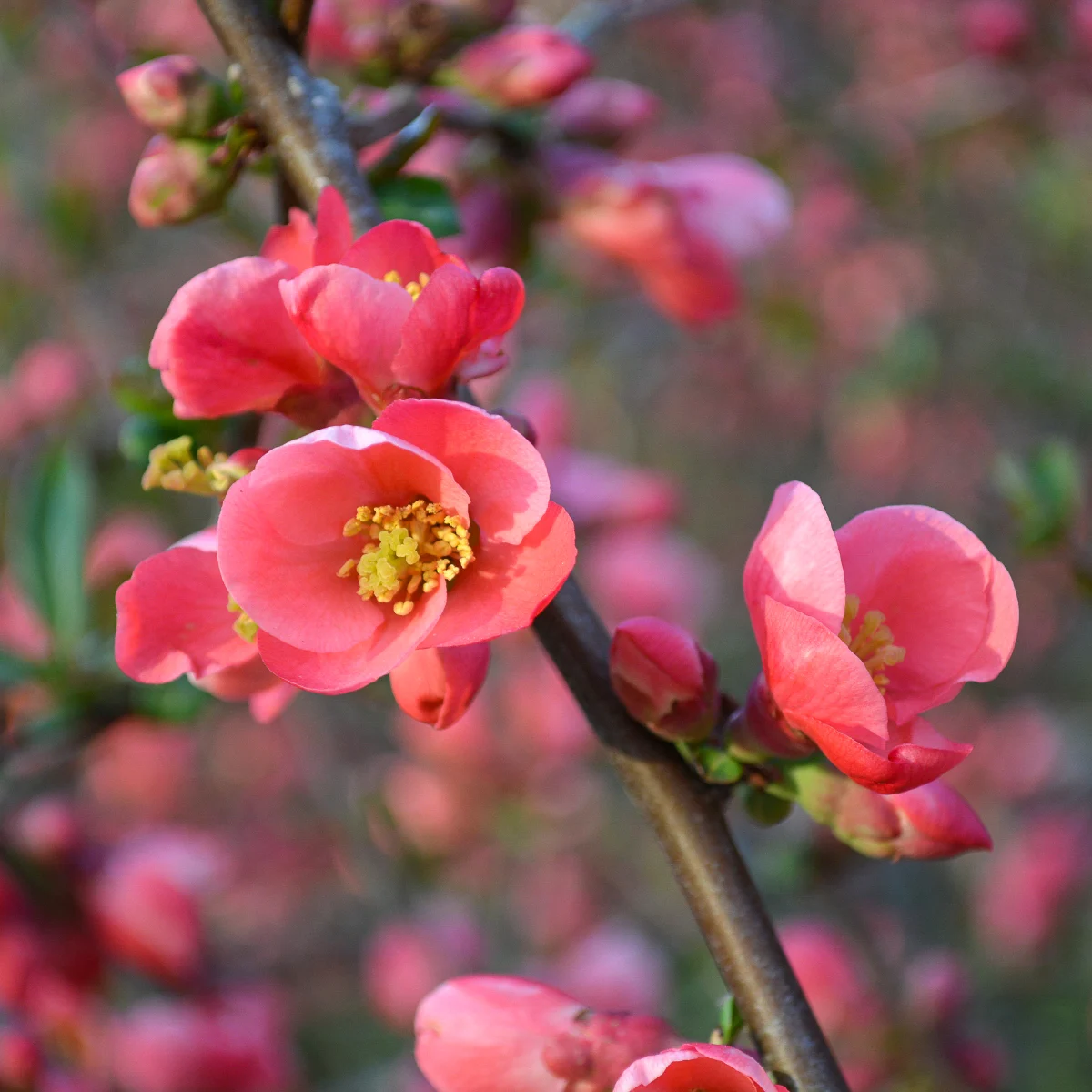 Description
This hardy shrub is almost indestructible, making it a great choice for your winter garden. Its beautiful red blooms will add bright color in late winter before turning a deep green. You can find three different color varieties here.
Growth Habit
This lovely plant can grow up to 8 feet wide, so it's sure to make an impact in your yard. Plant flowering quince as a hedge or along a fence to fill in bare spots. Older varieties can have thorns, so opt for the newer, gentler versions.
Care
Make sure the flowering quince gets plenty of sunlight throughout the day to ensure you get vibrant red blooms in winter. This plant is also reasonably drought-tolerant once it's established, so you won't need to pay much attention to it throughout the cold months.
Learn more about how to grow and care for flowering quince here!
---
Camellias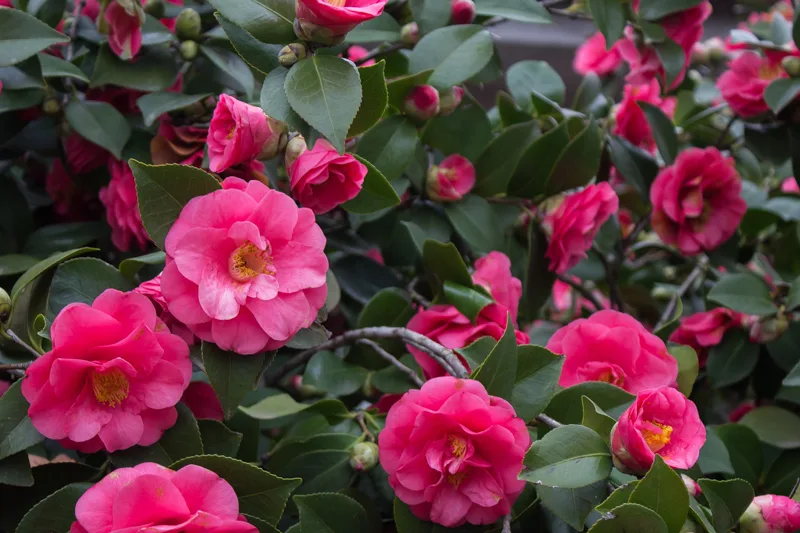 Description
These lovely flowering plants will bring a little bit of tropical warmth to your landscape during the cold winter months. The camellia's beautiful blooms appear in the fall and winter and linger on the plant for a long time after showing. The flowers come in a variety of colors (check out all the options here), so you can choose the one that coordinates with the rest of your winter foliage.
Growth Habit
If planted properly, these lovely winter blooms will brighten your garden with minimal effort. They can grow up to 10 feet tall and wide, so make sure you have enough room for it to expand.
Care
Young shrubs should be planted slightly higher than the surrounding soil to allow for proper drainage. Be sure to water your newly planted Camellias regularly to ensure its roots are established as it grows. This plant prefers partial to full shade, making it a great option for the darker corners of your yard.
Learn more about how to grow and care for camellias in this article!
---
Winter Jasmine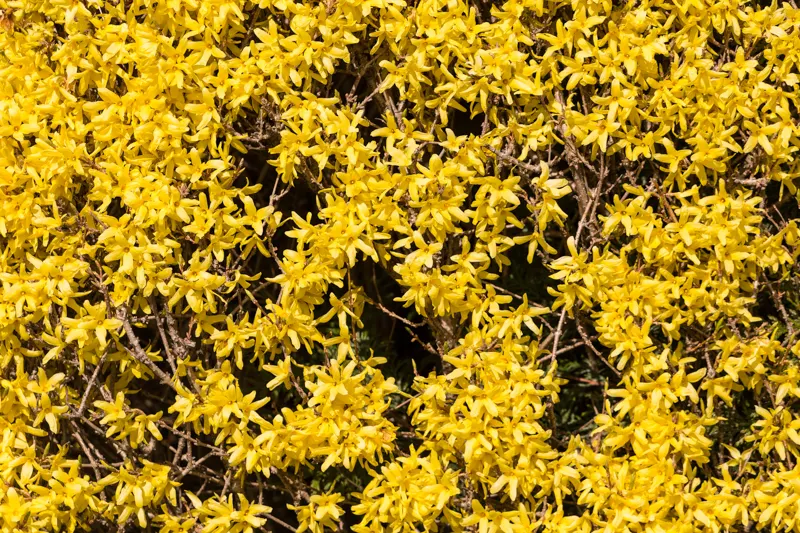 Description
The cheery flower of Winter Jasmine is one of the first to bloom in January! While it doesn't have the scent of the summer variety, it provides a welcome burst of color when the rest of the garden hibernates. It features white or yellow flowers on a shrub-like plant.
Growth Habit
Winter Jasmine can grow from 4 to 15 feet, and is perfect for hiding unsightly walls. It can be trained to grow up a trellis (you can find plans to make your own garden trellis here and here). Otherwise, it will spread out and act more like a groundcover.
Care
Plant Winter Jasmine in full sun for the brightest blooms. They require plenty of moisture, but well-drained soil to thrive. The stems will turn brown and produce less flowers over time, so trim off those branches to just above the ground to increase production.
You can learn more about how to grow winter jasmine in this article!
---
Red Twig Dogwood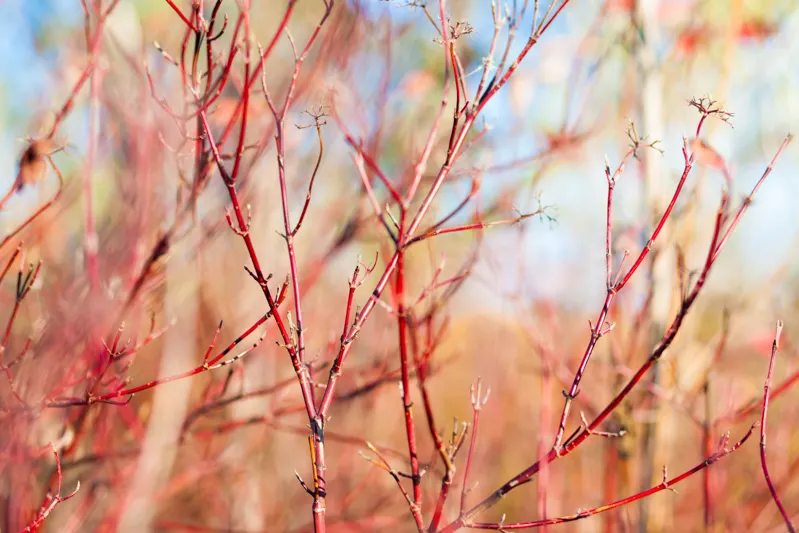 Description
This shrub is known for its lovely white spring flowers, but it really makes an impact in the winter with its branches. The bright red stems of the red twig dogwood are especially dramatic against a snowy landscape.
Growth Habit
While you may be familiar with the dogwood tree, which also features pretty white flowers, the Red Twig Dogwood never grows into a tree. Instead, it remains a large shrub up to 8 feet tall and wide. These shrubs make a huge impact when planted in groups, especially in erosion-prone areas.
Care
Giving them plenty of space to grow will allow the plants to flourish and reduce the likelihood of disease. To ensure your Red Twig Dogwood has brilliant red branches each winter, prune each shrub to remove older stems every year.
---
Cotoneaster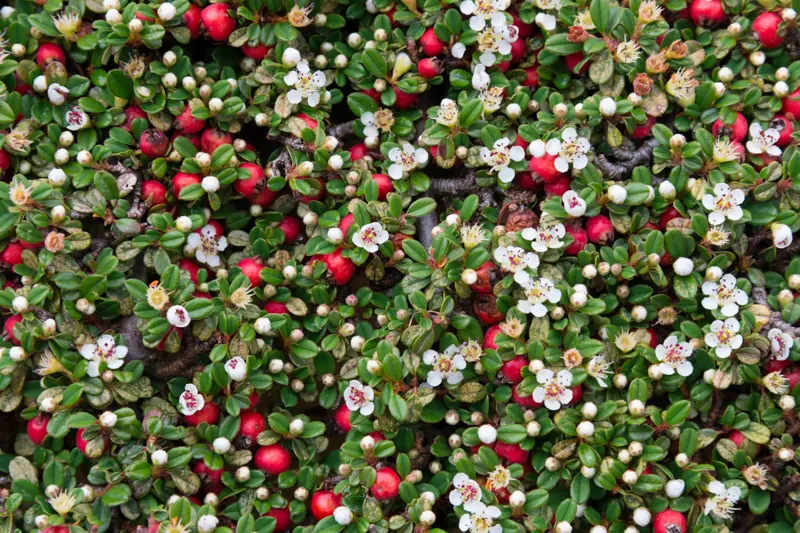 Description
For beautiful, bright groundcover, choose Cotoneaster for your winter garden. This leafy evergreen plant produces lovely flowers in the spring and summer, as well as bright red berries throughout the cold months.
Growth Habit
This low-growing plant is perfect for accenting driveways, bordering your home's foundation, decorating slopes, and even growing in pots.
Care
Cotoneaster grows well in full sun with well-drained soil and is drought-tolerant once established. To care for Cotoneaster, mulch in spring and fall to reduce weed growth and water during prolonged dry spells. To contain this spreading plant, simply remove wayward branches by cutting the branch at the ground.
---
Witch Hazel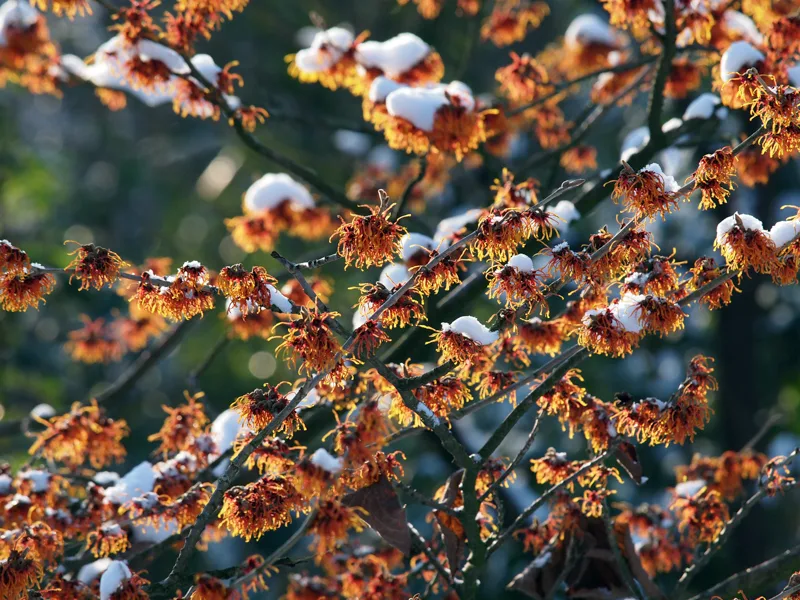 Description
While red seems to be a popular winter garden color, Witch Hazel stands out with its yellow and orange foliage. This pretty shrub offers lovely fall foliage and actually requires a winter freeze to reach full flowering toward the end of the season.
Growth Habit
In addition to its pretty spidery flowers, Witch Hazel also has a lovely fragrance, so it's best appreciated when planted near a doorway or entry path. That way, you and your guests can enjoy the wonderful smell every time you enter your home this winter.
Care
It grows best in full sun and is virtually maintenance-free once established, though it does love water throughout the warm summer months.
Check out this article for more tips on how to grow witch hazel in your garden!
---
Hellebore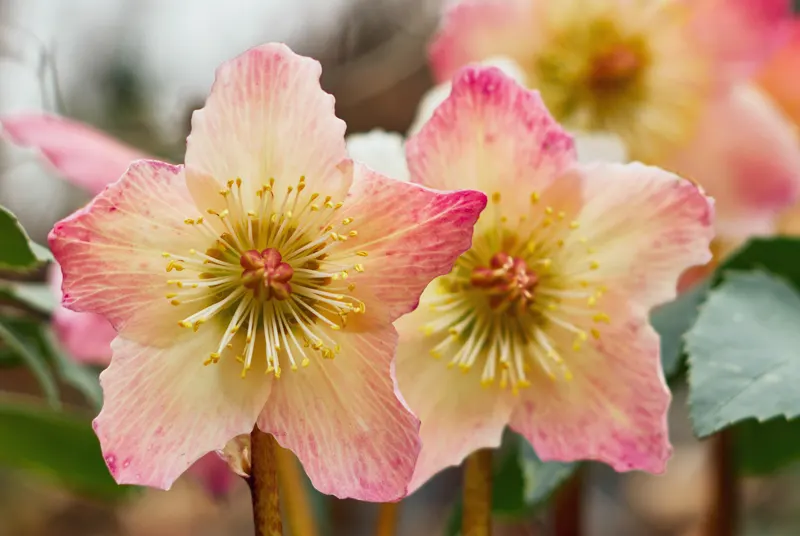 Description
Hellebore, also known as Lenten Rose, start blooming sometime in February and last through until spring. Hellebore comes in many different colors and varieties, so you're sure to find one you'll want to add to your garden.
Growth Habit
These plants grow 12-24" tall and the leaves remain evergreen and serve as a groundcover in summer. Deer won't eat them, making them a great addition to a woodland garden. After a few years, you can divide them for even more plants!
Care
Hellebores love partial to full shade and rich, moist soil that is well draining, although they'll survive almost anywhere. Trim back the spent stems in late spring and clean up any dead leaves in the fall.
Check out this article for more information about how to grow hellebores!
---
I hope this article helps you add some color to your garden during the colder months! There's nothing better than seeing these flowers that bloom in winter popping up from the cold ground!