If you're looking for colorful flowers that bloom in the shade, consider impatiens! Here's how to grow and care for impatiens in the garden!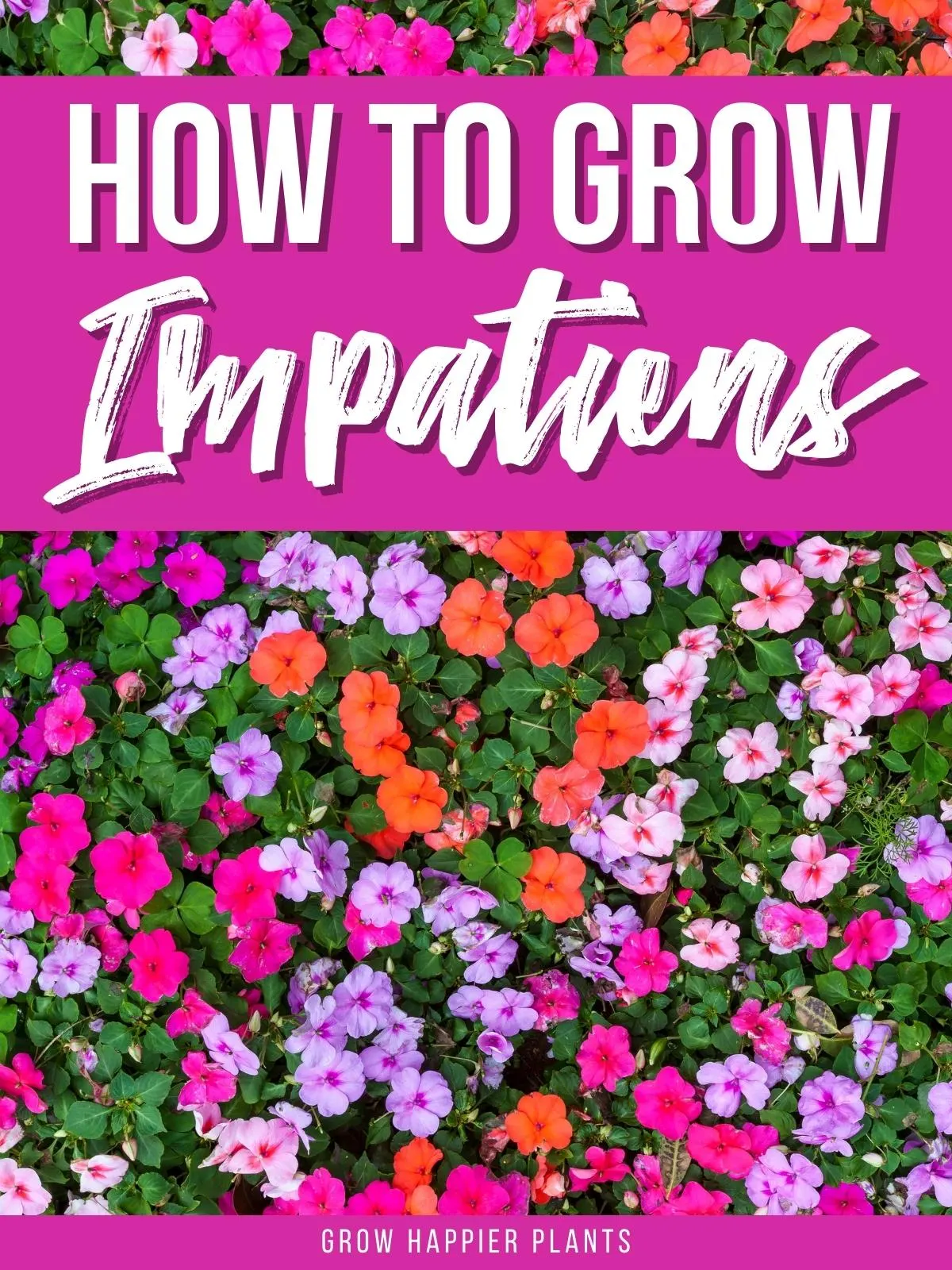 Impatiens are a great shade garden plant that brings a bright pop of color to the darker corners of the flower bed. However, if your garden gets lots of sun, don't worry. Some varieties of this annual flower also grow in sunny locations!
The pretty, cheerful blooms range from red to pink, white to yellow, and purple to violet, providing a profusion of color that goes on and on all summer. Blossoms range in diameter from 1 to 3 inches, with single or double petals on stems from 6 to 18 inches tall.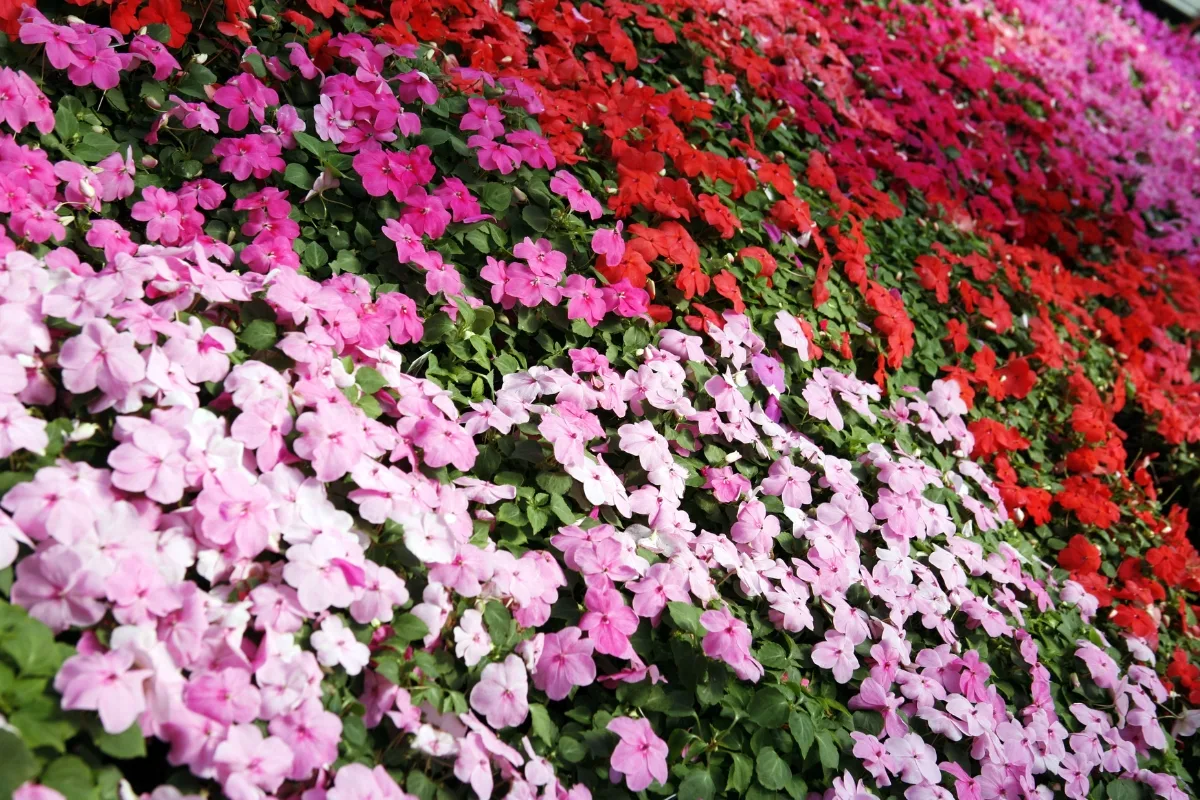 Impatiens only need a little care once you plant them, except for plenty of water. Also, given the abundance of flowers an impatiens plant can produce, it's not surprising that they need fertilizer, especially when growing in containers.
This post contains affiliate links for your convenience. Purchases made through these links may earn me a small commission at no additional cost to you.
Impatiens Varieties
Impatiens come in two primary types. The most popular is Impatiens walleriana, also known as 'Bizzy Lizzy' or 'Busy Lizzy.' This type was highly susceptible to downy mildew in the past, but plant breeders have developed new mildew-resistant cultivars. Bizzy Lizzy does best growing in the shade.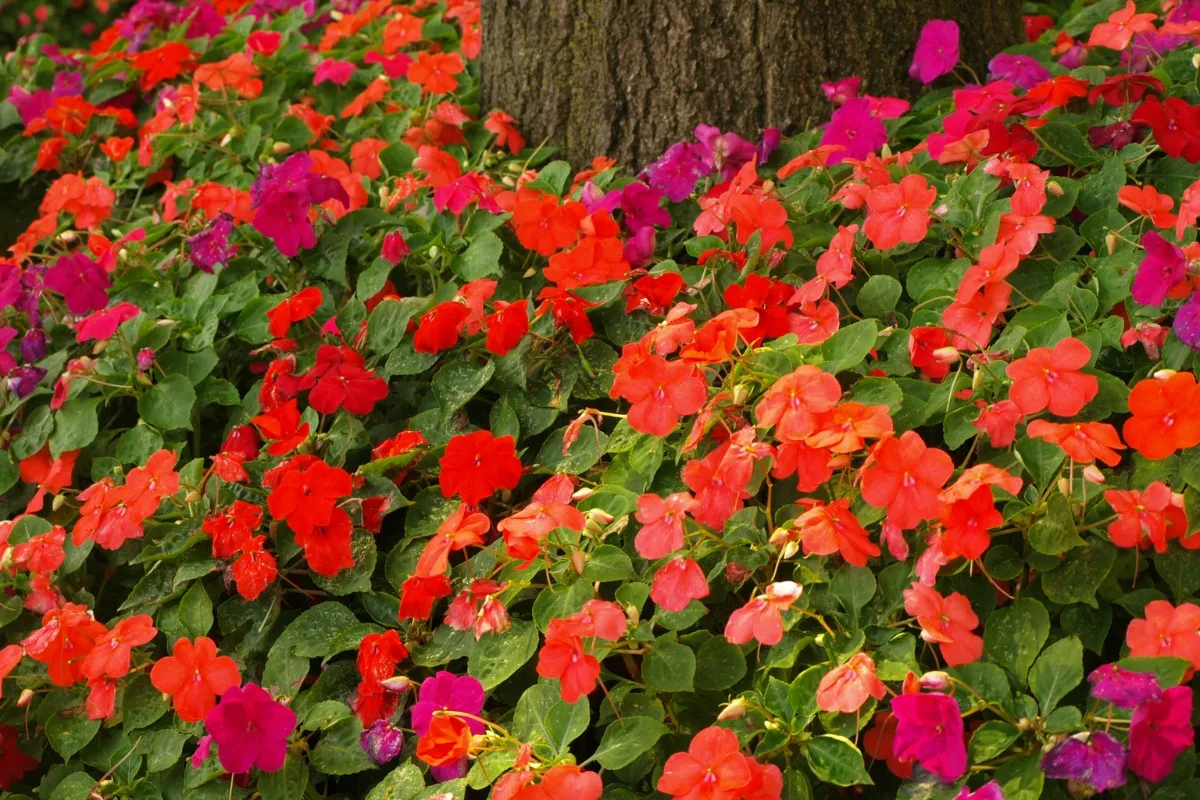 New Guinea impatiens are a different species, Impatiens hawker, also known as Sunpatiens. They are bred to be more tolerant of sunny conditions and are resistant to mildew diseases.
New Guinea impatiens are taller and sturdier and capable of forming colorful carpets of blooms. They have larger, more impressive flowers up to three inches in diameter and foliage of bronze, green, and variegated colors.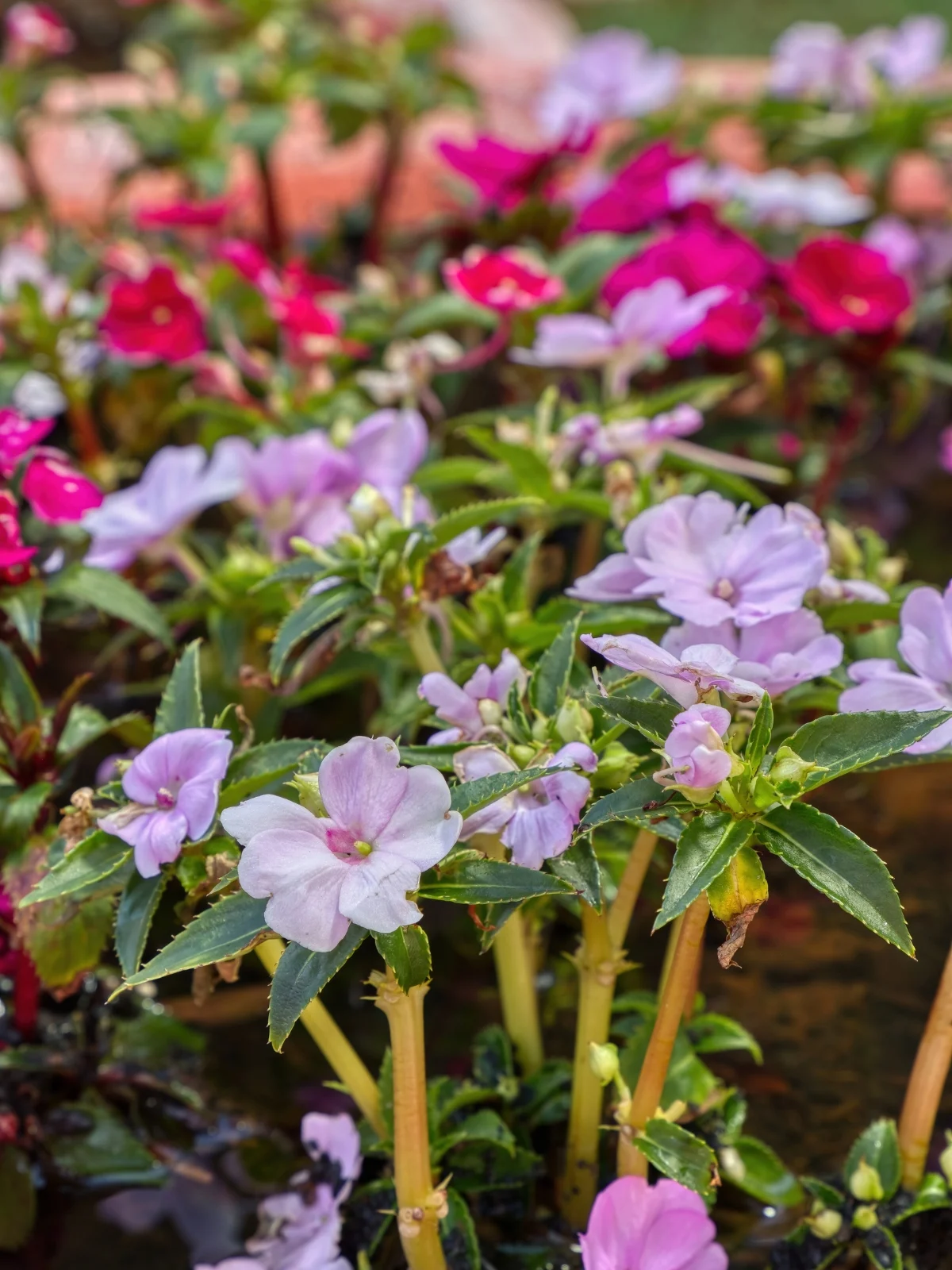 When to Plant Impatiens
Impatiens do not like cold weather, so wait until the soil temperature reaches 60°F or more or until at least two weeks after your area's last average frost date before planting them.
If you keep impatiens indoors or in a greenhouse before setting them outdoors, it's an excellent idea to harden off the plants first by taking them outside for a few hours a day for a week or so before transplanting.
Where to Plant Impatiens
You can enjoy season-long impatiens blossoms while they grow in the ground, in a container, or in a hanging basket. They're great for the front of borders because they won't grow too tall and shade out other plants.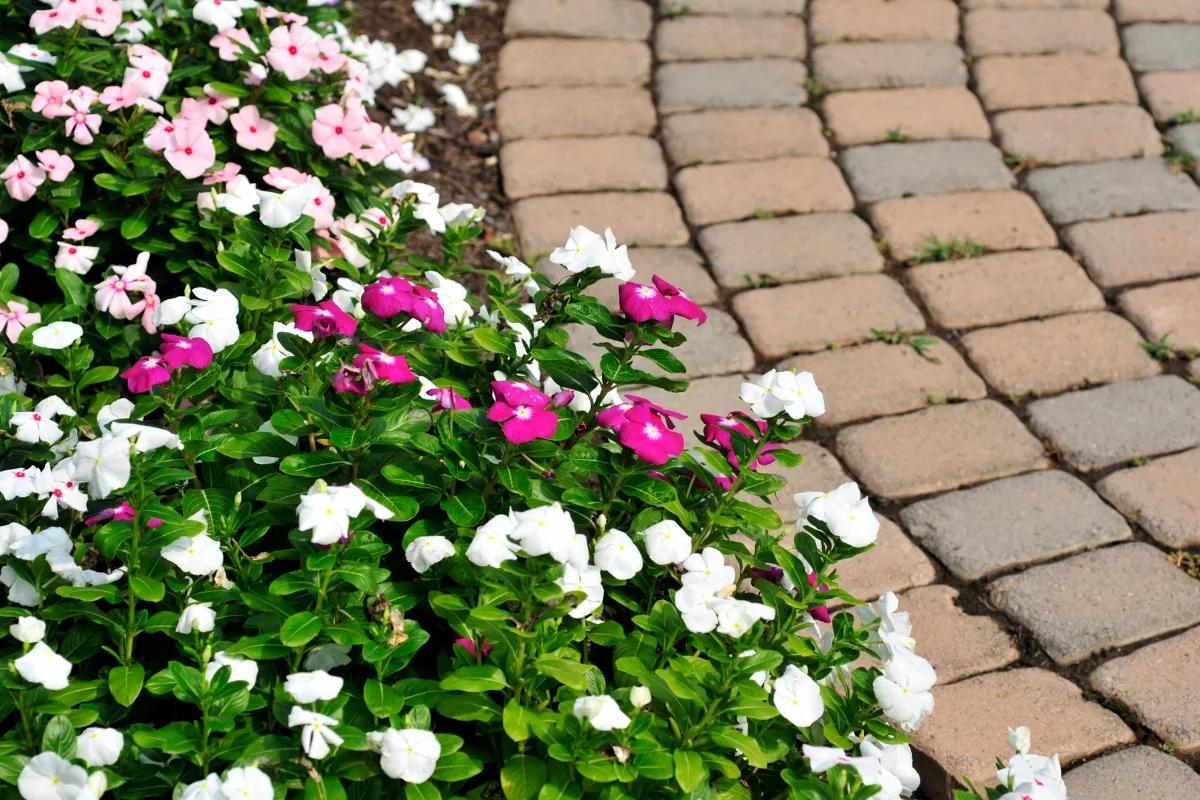 Both types of impatiens need moist but not soggy soil, so plant them in well-draining soil that retains moisture. Add plenty of organic matter to the planting hole, such as compost or rotted manure. These sources of organic matter also provide nutrients that impatiens appreciate. Impatiens prefer slightly acidic soil with a pH of 6 to 6.5.
For the best flowering on Bizzy Lizzy varieties, choose a site that gets two to four hours of filtered sun early or late in the day. Of course, you can also plant them in full shade, but in this case, expect fewer flowers and leggier plants.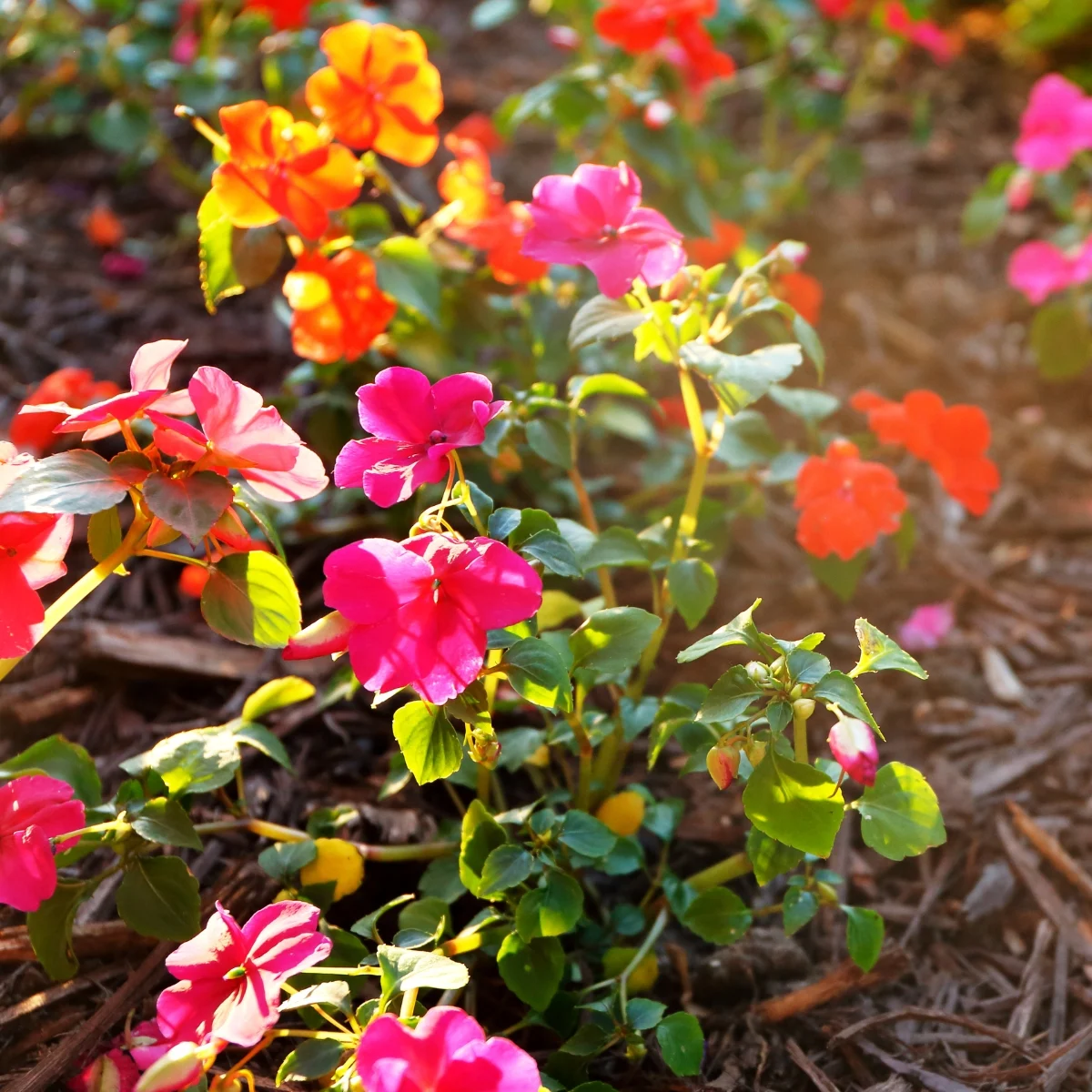 New Guinea impatiens do well in locations that get some direct sun for part of the day. Morning sun followed by afternoon shade is ideal. However, too much sun exposure can reduce the number of flowers and scorch foliage.
How to Plant Impatiens
The easiest way to plant impatiens is to buy growing plants at a garden center. Both types can be started from seed, but it can take up to 10 weeks for Bizzy Lizzy seeds to sprout and grow enough for transplanting. New Guinea varieties take up to 12 weeks when started from seed.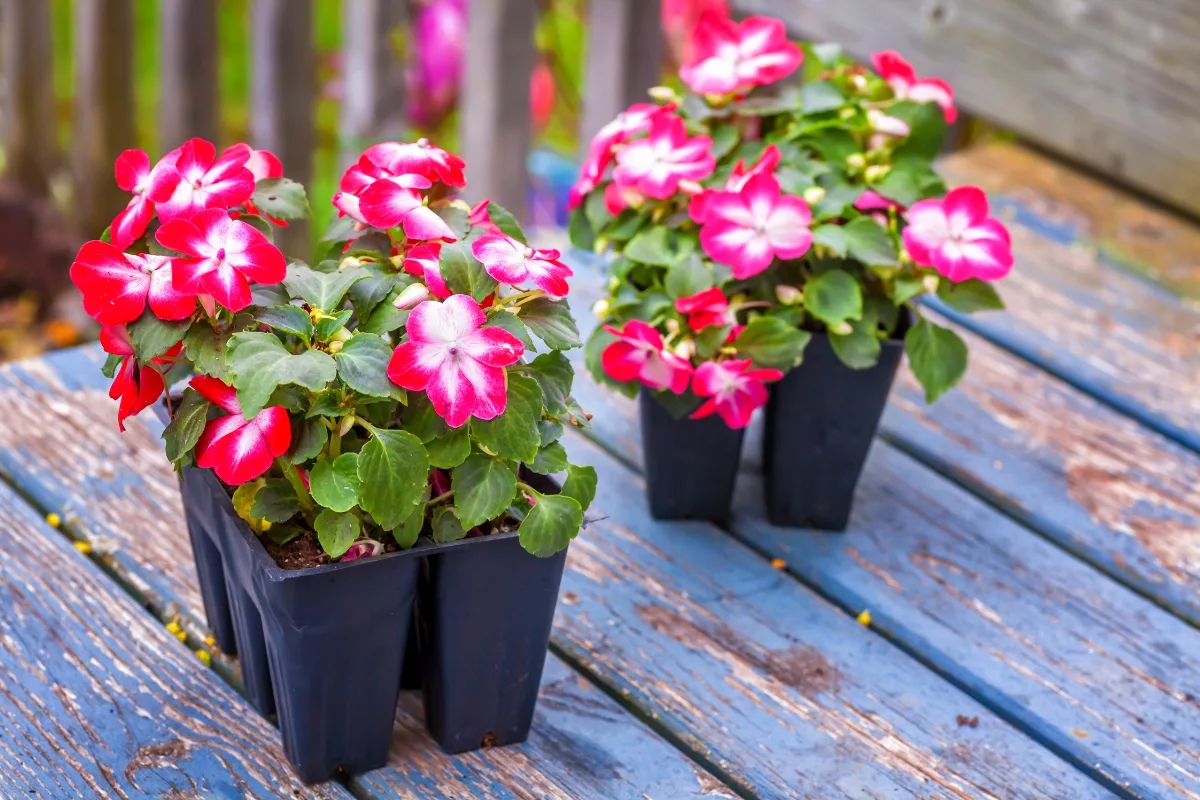 To start impatiens from seed, use a moistened seed starting soil mix and sow the seeds on top of the soil. Impatiens seeds need exposure to light to germinate, so cover the seeds lightly with soil mix.
Next, cover the tray with transparent plastic and put it in bright, indirect light at a temperature between 72 to 77°F for Bizzy Lizzy and 75 to 80°F for New Guinea types. Mist the soil occasionally to keep it moist. It can take from 5 to 25 days for the seeds to sprout.
When the plants are ready for transplanting, mix some annual flower fertilizer into the planting hole to give the plants a good start. Landscape plants usually do not need additional fertilizing after planting, but those in containers do. When planting impatiens, set the plants at the same depth as they are in the pot.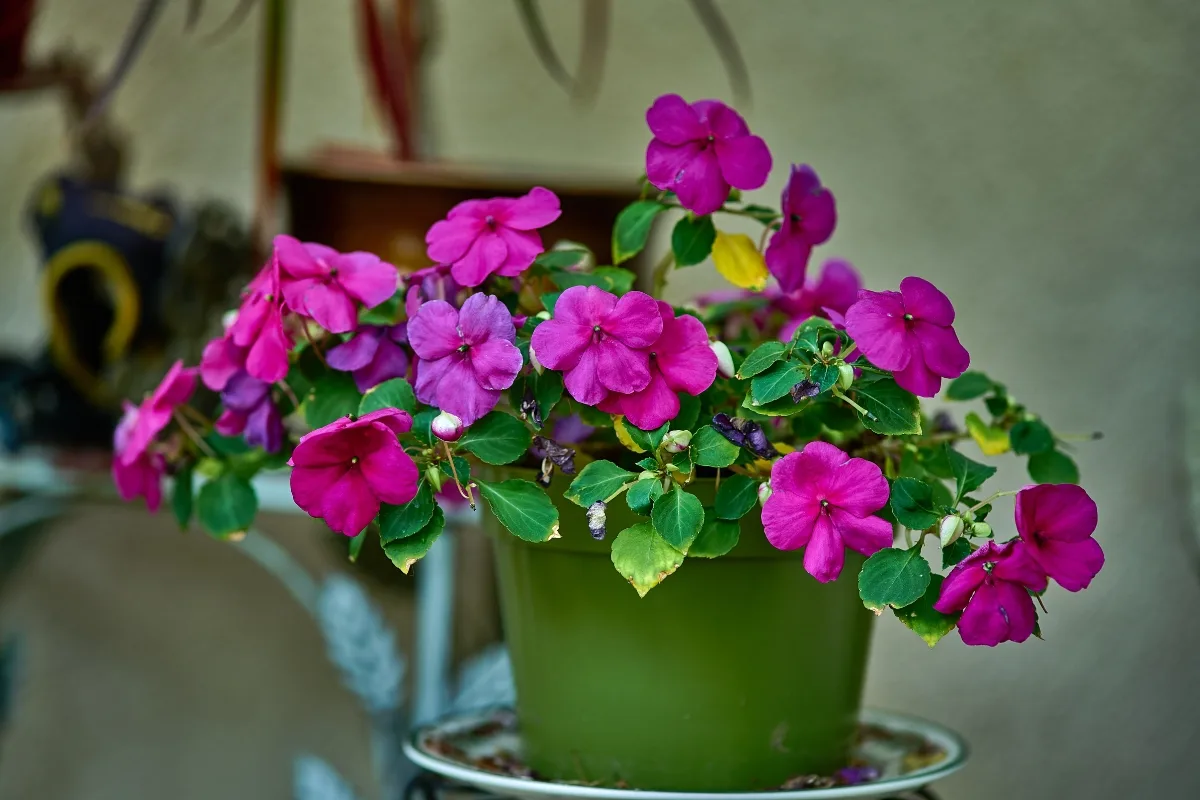 Caring for Impatiens
To keep blooms coming, fertilize impatiens when you transplant them using high phosphorus and medium nitrogen fertilizer for in-ground plants. For container-grown plants, fertilize every two to three weeks.
Be sure to read the fertilizer package directions and follow them carefully. If you use a granular fertilizer, water the ground after spreading it so it can soak in, or apply it before the rain.
Water impatiens plants frequently. Plants in the ground need less water than those in containers or hanging baskets. However, keep them watered sufficiently to prevent stems from drooping, or flowers likely will be less abundant.
Frequently Asked Questions about Impatiens
Are impatiens poisonous to cats and dogs?
Impatiens are non-toxic and pet safe.
Are impatiens annuals or perennials?
Impatiens are annuals, so they will not come back year after year.
Are impatiens deer or rabbit resistant?
One of the few downsides to growing impatiens is that their juicy stems are a desirable food source for deer and rabbits. Plant them inside a fence or in hanging baskets to keep these plants away from deer and rabbits.
---
Check out these other flowers that bloom in shade!