Discover how to grow phlox from seed with our step-by-step guide, featuring tips and tricks for creating a beautifully scented garden.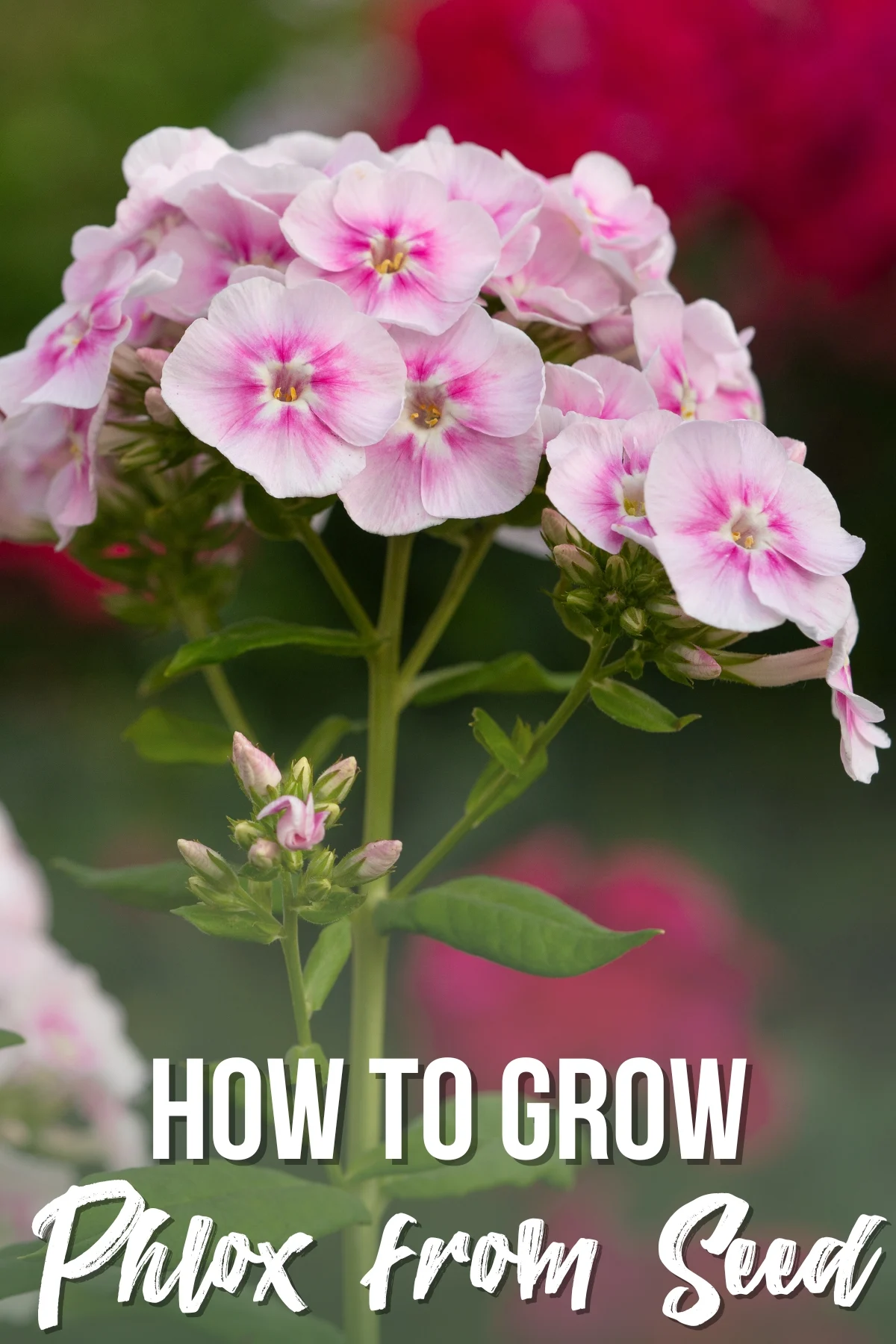 The sweet scent and delicate petals of phlox makes it an irresistible addition to any garden. Annual phlox, also known as Phlox drummondii, features star-shaped flowers in dense clusters, creating a stunning display of color.
Phlox flowers also attract pollinators like bees and butterflies, which contribute to a healthy and thriving ecosystem. These versatile plants can be grown in garden beds, borders, containers, or even hanging baskets, making them an excellent choice for gardeners of all experience levels.
Luckily, it's easy to grow phlox from seed, so you can plant large drifts of color and fragrance without breaking the bank! In this article, I'll share my tips and tricks for growing phlox from seed so you can include this low-maintenance plant in your garden plans this year!
This post contains affiliate links for your convenience. Purchases made through these links may earn me a small commission at no additional cost to you.
Phlox Cultivars
Phlox is a low-maintenance plant with many US native species. You'll often find it growing wild in partly shaded woodlands, meadows, and along streams. Some varieties are perennial, forming low mounds that grow back from the roots each year. Other cultivars are annuals, which is what I'll be focusing on in this article.
There are at least 60 species of phlox that come in a wide array of flower colors such as red, pink, bi-colored, blue, white, and lavender. This year, I'm growing Cherry Caramel Phlox, which are the pale yellow flowers with a pink eye in the photo below, and Sugar Stars Phlox, which you'll see later on.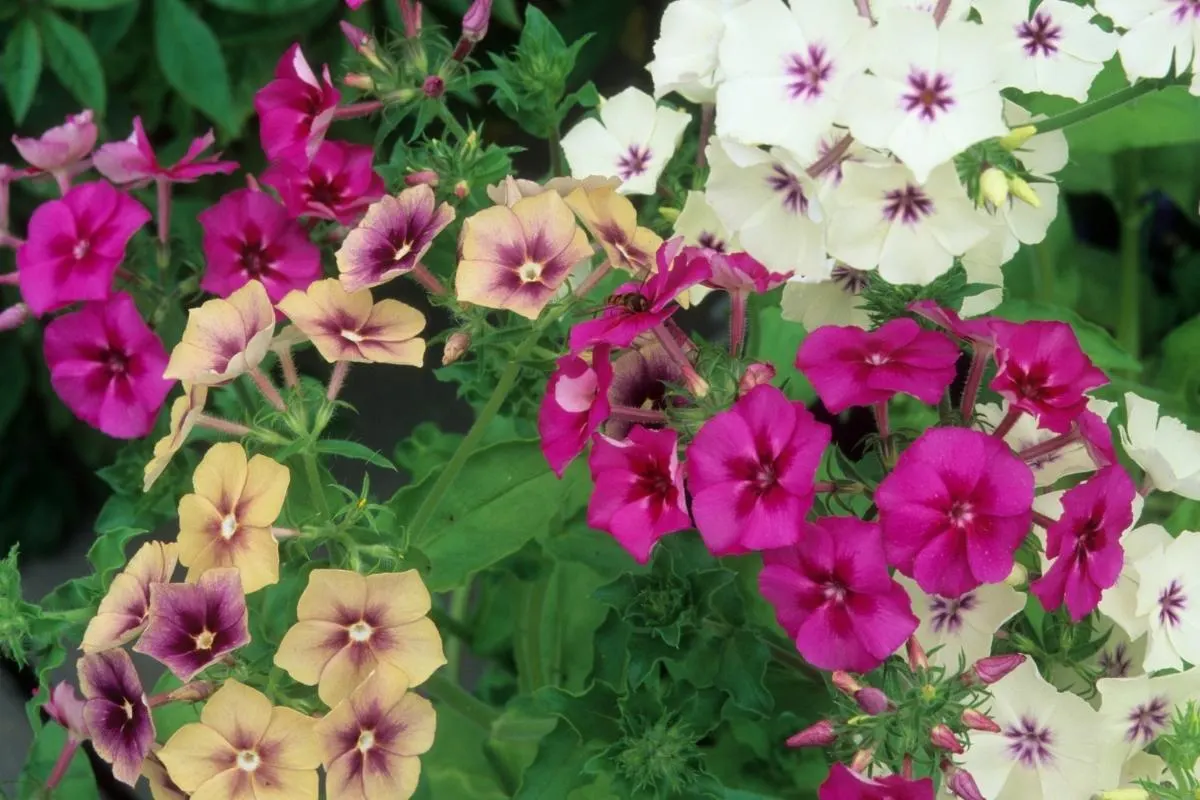 Other varieties of phlox include:
'Volcano Ruby' is a 2-foot-tall type with red, ruby, white, or purple flowers and improved mildew resistance.
'Laura Phlox' has 3 to 4-foot tall stems and vibrant, dark red flowers that hummingbirds adore.
'Grace Phlox' has soft-toned lavender flowers.
'Blue Phlox' is actually a stunning violet-blue color.
Phlox subulata is a creeping variety that only gets about 8 inches tall with lavender and pink flowers.
'Clouds of Perfume' is one of the more fragrant cultivars.
'Chattahoochee' is an award-winning cultivar with dark-centered lavender blooms.
'Fuller's White' has white blossoms.
How to Plant Phlox Seeds
While phlox prefers to be direct sown into the soil where you want them to grow, you can also grow phlox from seed indoors with a little extra care. Here's how!
When to plant phlox seeds
Plant phlox seeds indoors 4 to 6 weeks before the last frost date for your area. Sow the seeds outdoors when the soil becomes workable in spring, up to two weeks before the last frost.
What do phlox seeds look like?
Phlox seeds are dark brown, flat and tear drop shaped. They're fairly small, but not too difficult to handle.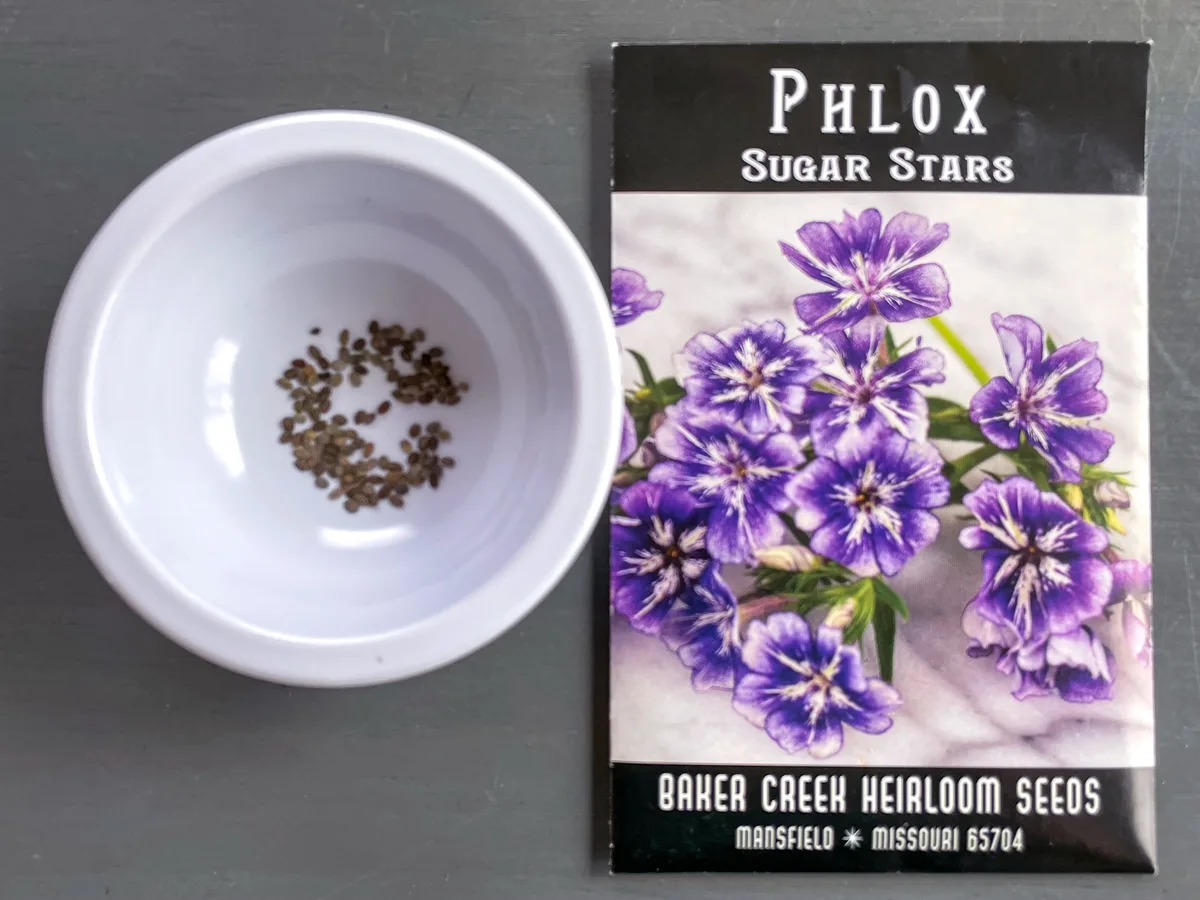 How to start phlox seeds indoors
Phlox seeds can be a little tricky to germinate, and many people have trouble getting them to sprout because they don't follow the correct procedure.
Sow in clean, sterilized seed trays or small pots. Consider root trainer trays that minimize root disturbance.
Plant the seeds ⅛" deep in good quality seed starting mix and cover them with soil.
Keep the containers at a room temperature of 60-65 degrees.
Phlox seeds require complete darkness to germinate, so keep them away from all light sources until they sprout. I keep mine in a closet off the grow room with a reminder to water the seeds inside.
Phlox seeds germinate in 5-10 days and should be moved under grow lights after they sprout.
One mistake I made this year was planting two different varieties of phlox in the same seed tray. As you can see below, the Sugar Stars phlox at the bottom all popped up fairly quickly. The Cherry Caramel phlox still hasn't germinated.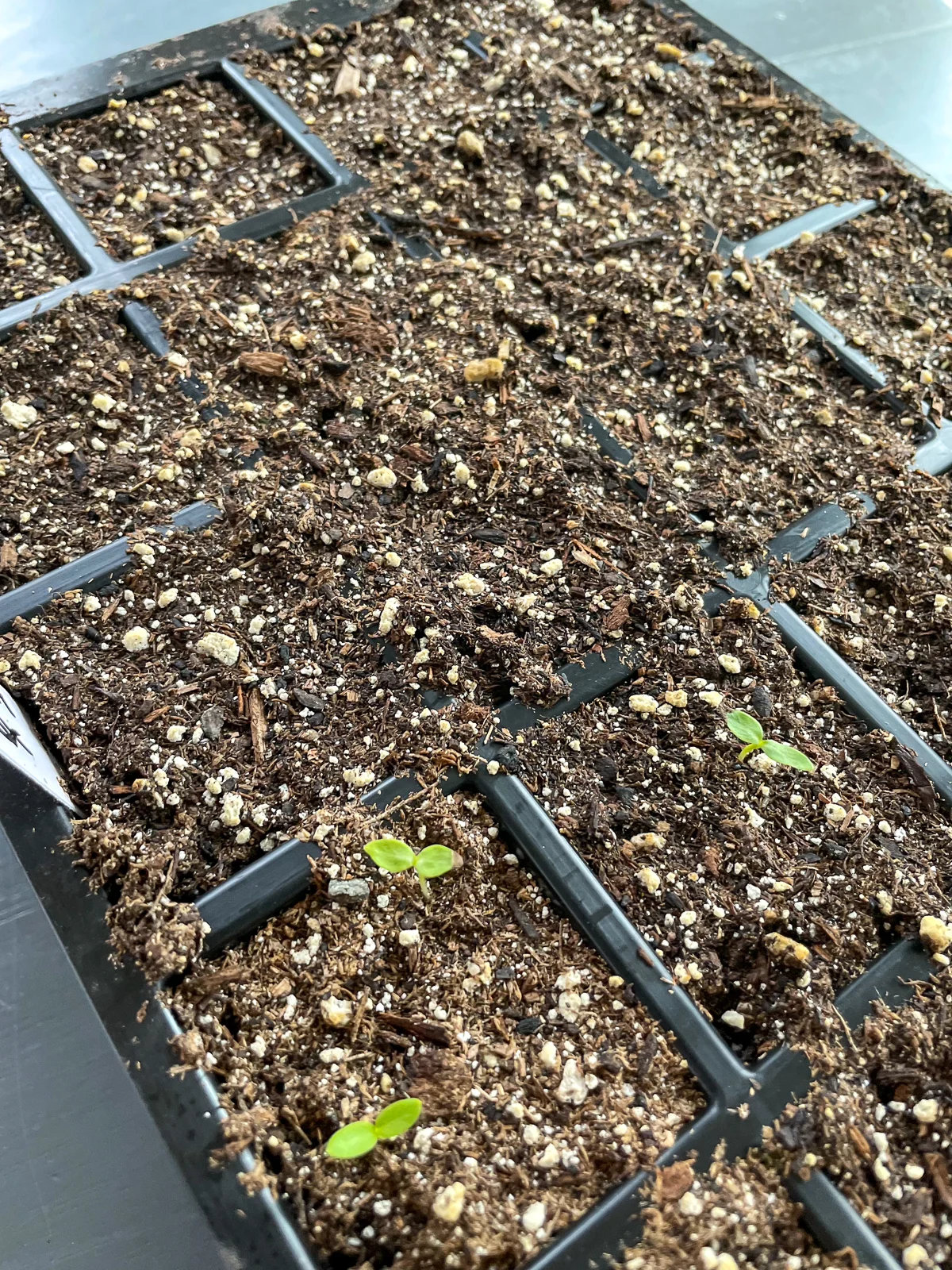 The dilemma is that the seedlings need light to grow, but the side that hasn't sprouted yet still needs darkness. To solve this problem, I covered the ungerminated seeds with cardboard to block the light until they pop up.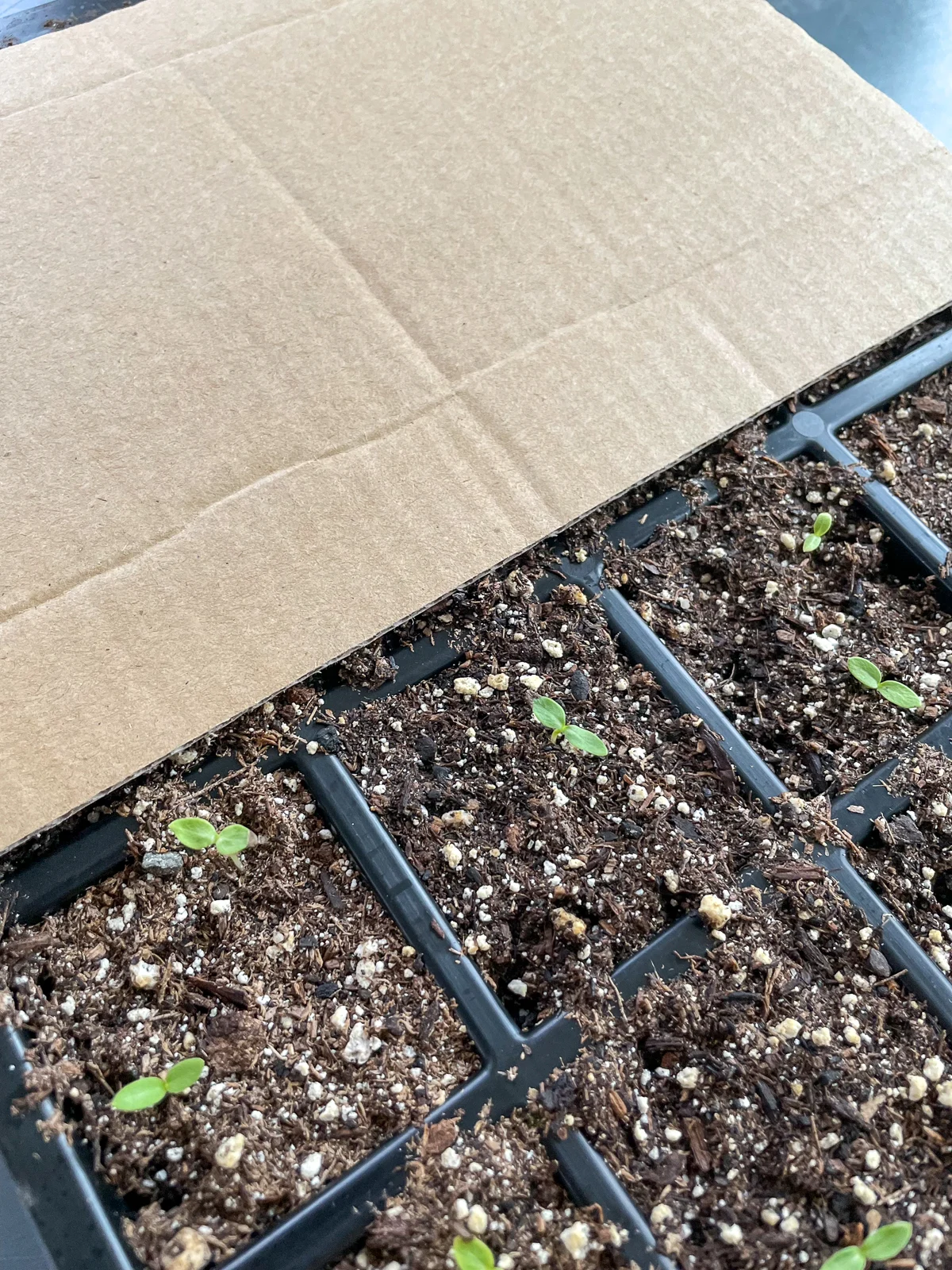 Planting Phlox in the Garden
Once your phlox seedlings have grown their first set of true leaves, you can start hardening them off before planting them out in the garden. Gradually acclimate the plants to the outdoors by placing the tray in a shaded area for short periods, and increase the time outside over the course of a week.
Phlox grows best in partial shade with fertile, well-draining sandy soil. However, in locations with cooler weather, it can thrive in full sun.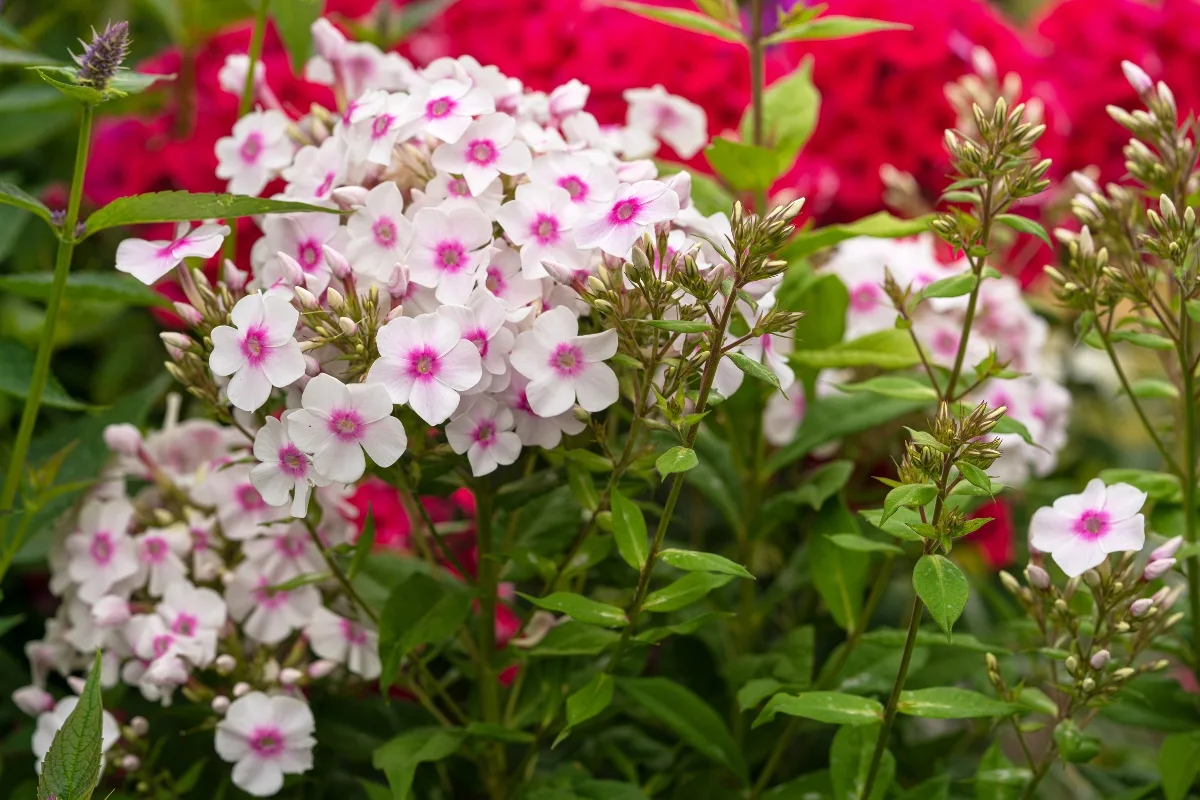 Space your plants 8-12" apart, being careful not to handle the roots too much. Consider planting it among early-blooming bulbs so that the phlox foliage can cover the fading leaves of the other plants later in the season.
Caring for Phlox
Phlox plants like their roots to stay cool and moist, so apply a light mulch around the base of the plants if temperatures are high in summer. Phlox tends to flower heavily at first and then slow down as the season progresses, but you can encourage more blooms by cutting the plants back when they start producing fewer flowers.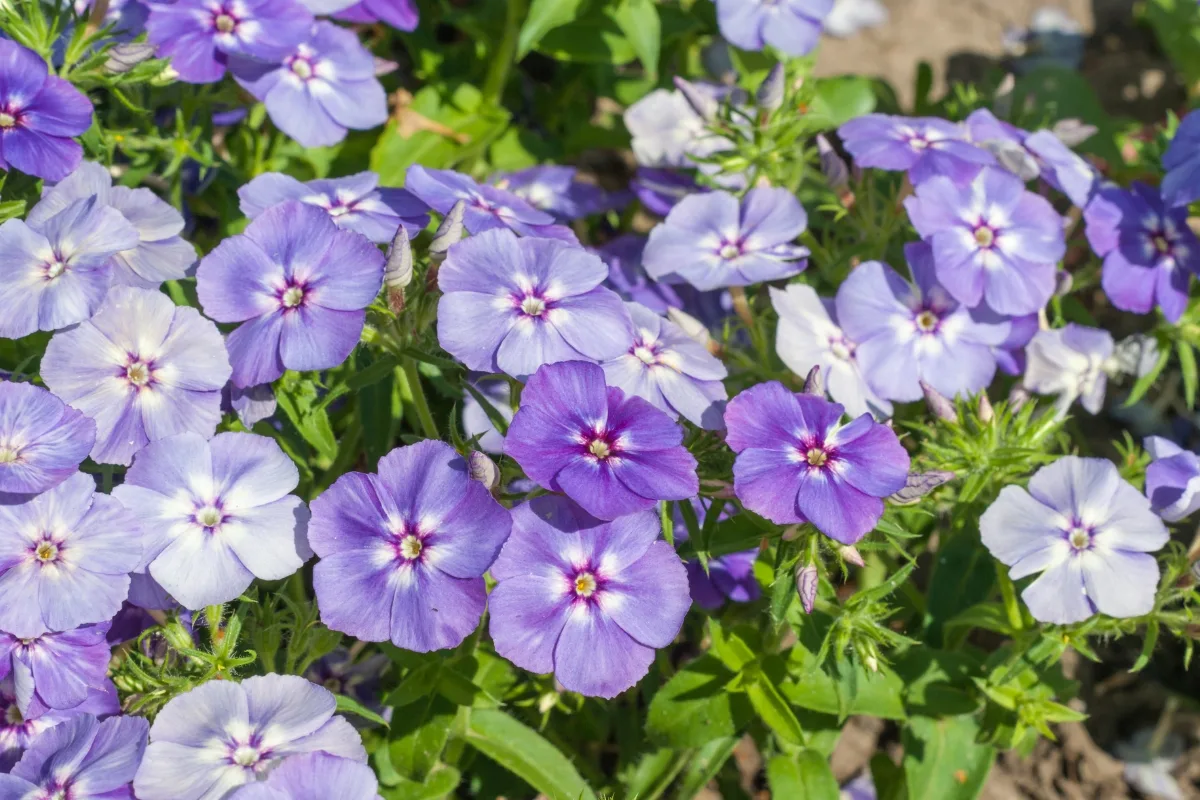 Most varieties of phlox do not have many issues except powdery mildew, which is most likely in humid areas late in the season. You can avoid this problem by planting it in a location with plenty of air circulation and spacing the plants so they are not crowded. In addition, cutting back faded flower stems can help deter this plant disease.
---
Now that you know how to grow phlox from seed, your garden will be graced with the vibrant colors and delicate blooms of these charming flowers all season long!