Yarrow is a tall, flowering perennial that attracts butterflies and pollinators to your garden. Learn how to grow yarrow from seed indoors!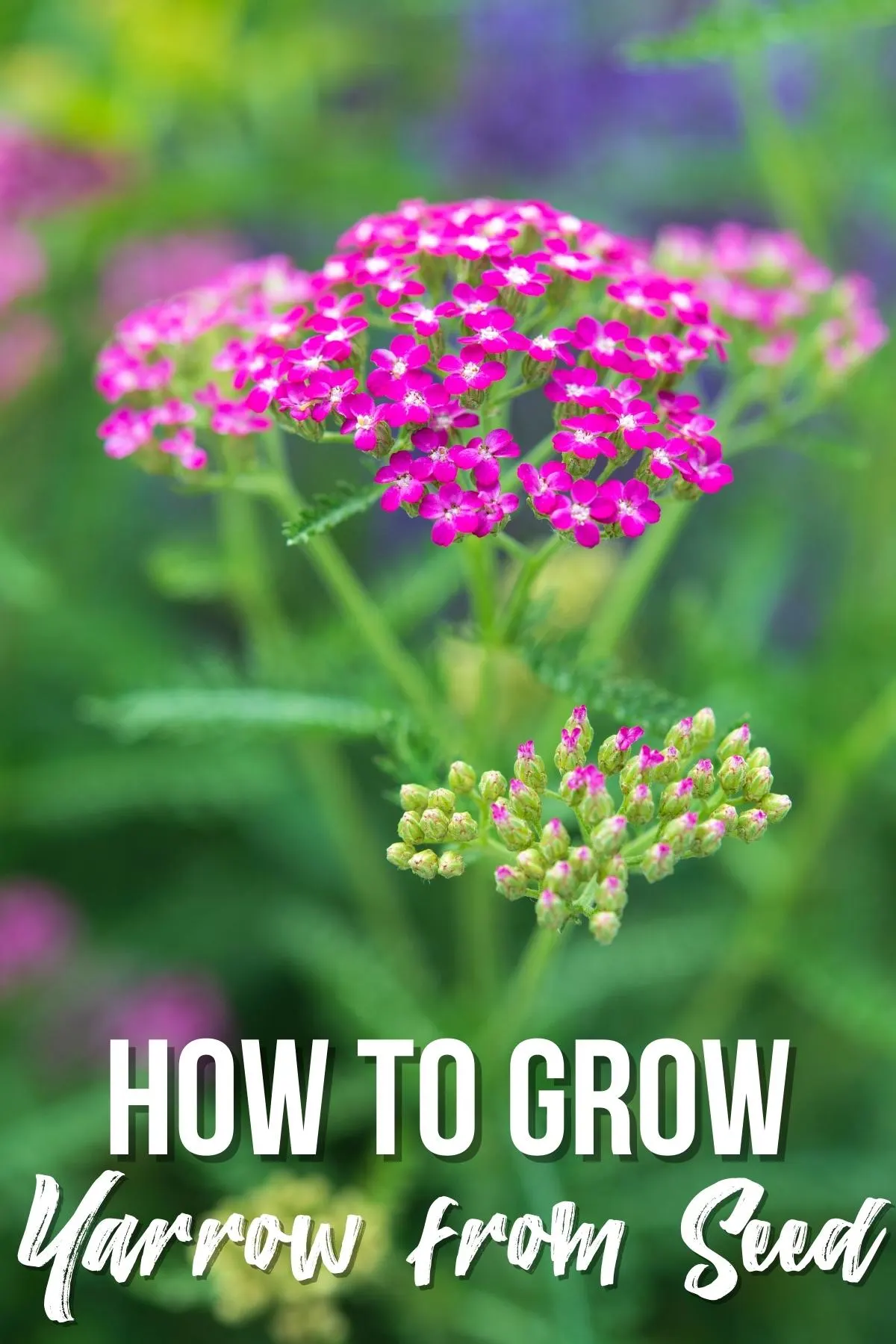 If you're looking for an easy to grow plant that provides color year after year with very little effort, look no further than yarrow! This perennial flower thrives in zones 2-9 even in poor soil and drought conditions. It also attracts butterflies and beneficial insects that help with pest control in the garden.
While the white and yellow varieties are most commonly found in the wild, I'm starting a mix of red, pink and purple flowering yarrow seeds this year. It will contrast nicely with the blue-green leaves of the euphorbia along our rock wall, and requires similar growing conditions.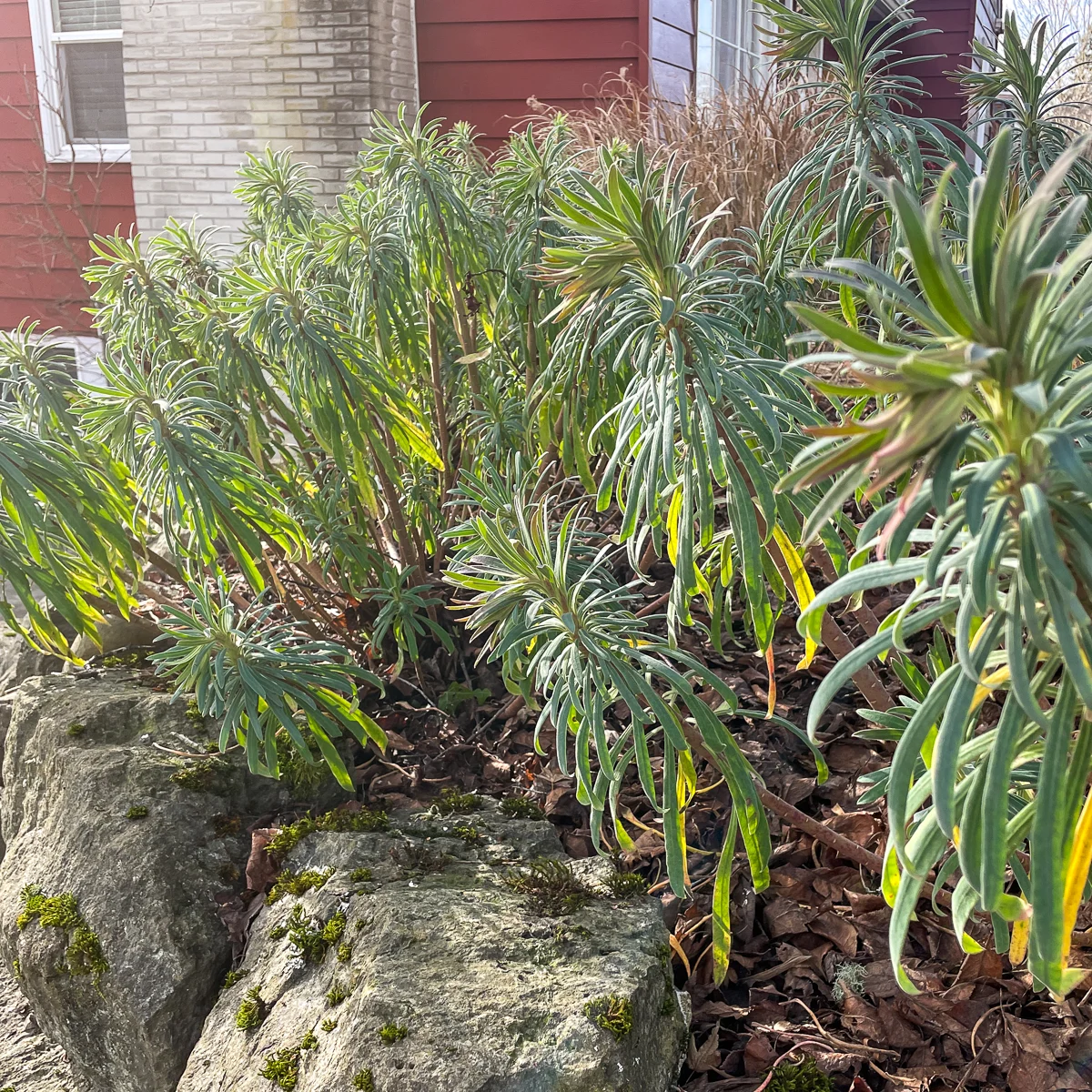 Not only does it look gorgeous in the landscape, it can also be used in dried floral arrangements. The large, disc shaped heads fill out a bouquet nicely!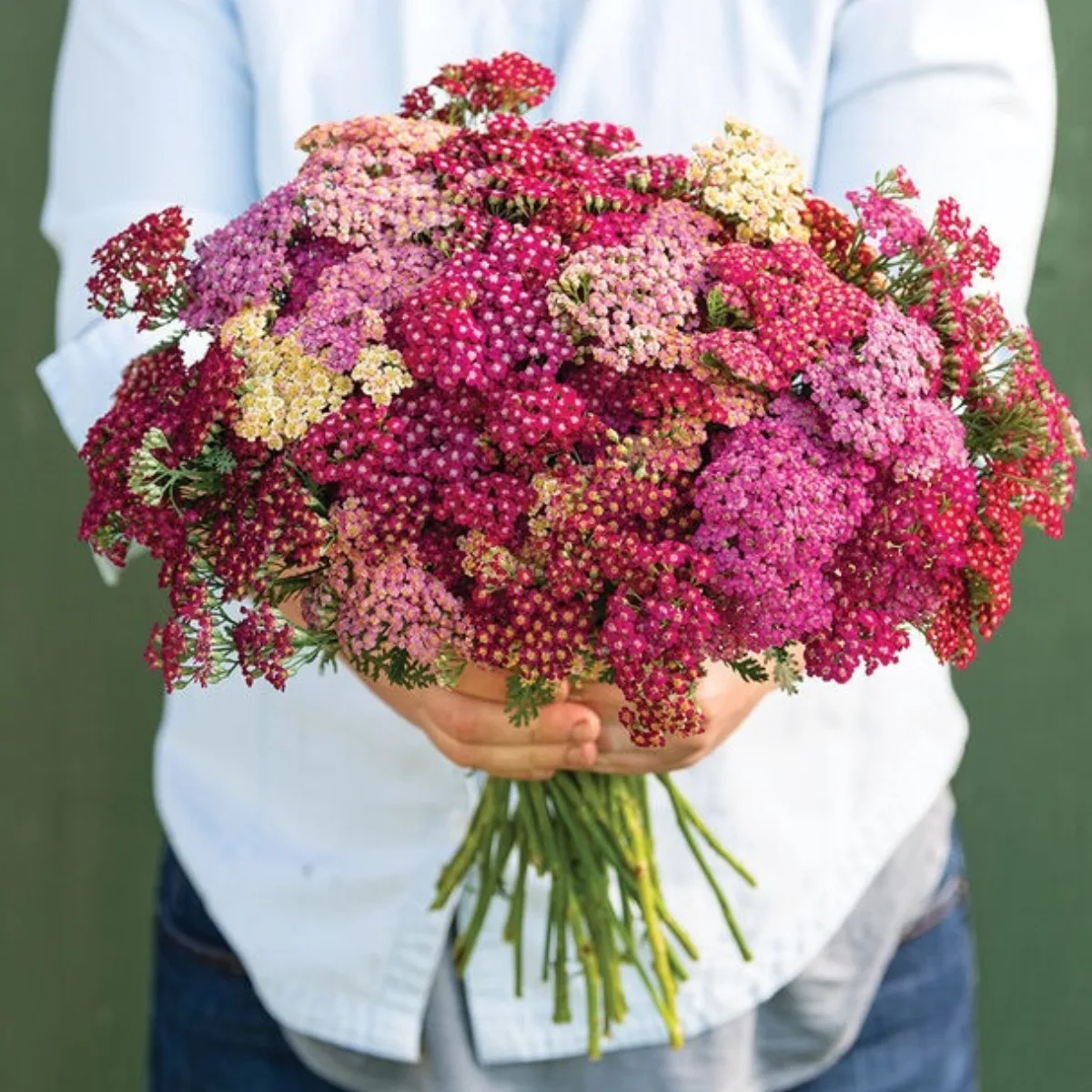 While you can typically find these plants potted up and ready to go at your local garden nursery, it's really easy to grow yarrow from seed! Here's how to start them indoors, or direct sow outdoors when the weather warms up.
This post contains affiliate links for your convenience. Purchases made through these links may earn me a small commission at no additional cost to you.
What do yarrow seeds look like?
Yarrow seeds are flat and elongated, with a white outer edge and a dark center. They have a pointed end and a rounded end, and are fairly easy to handle.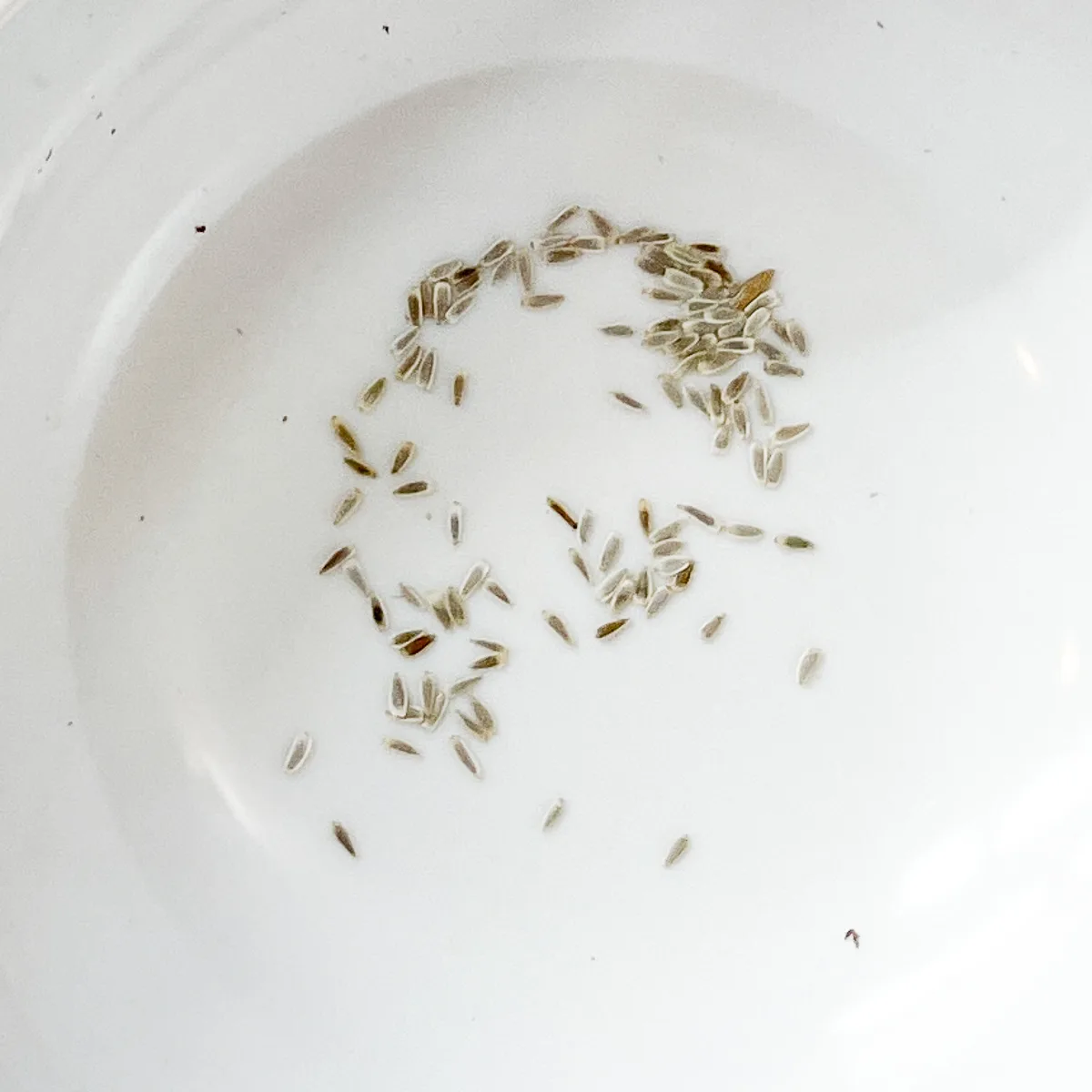 How to grow yarrow from seed indoors
Plan to plant yarrow seeds indoors 8-10 weeks before your last frost date. This will give your seedlings plenty of time to germinate and grow before planting them out in your garden.
Prepare the soil
Use a good quality seed starting mix, not potting soil. It's specially formulated to be lighter, so the tiny seedlings can push through easily. Mix it with water until it holds its shape when you squeeze it in your hand without any drips.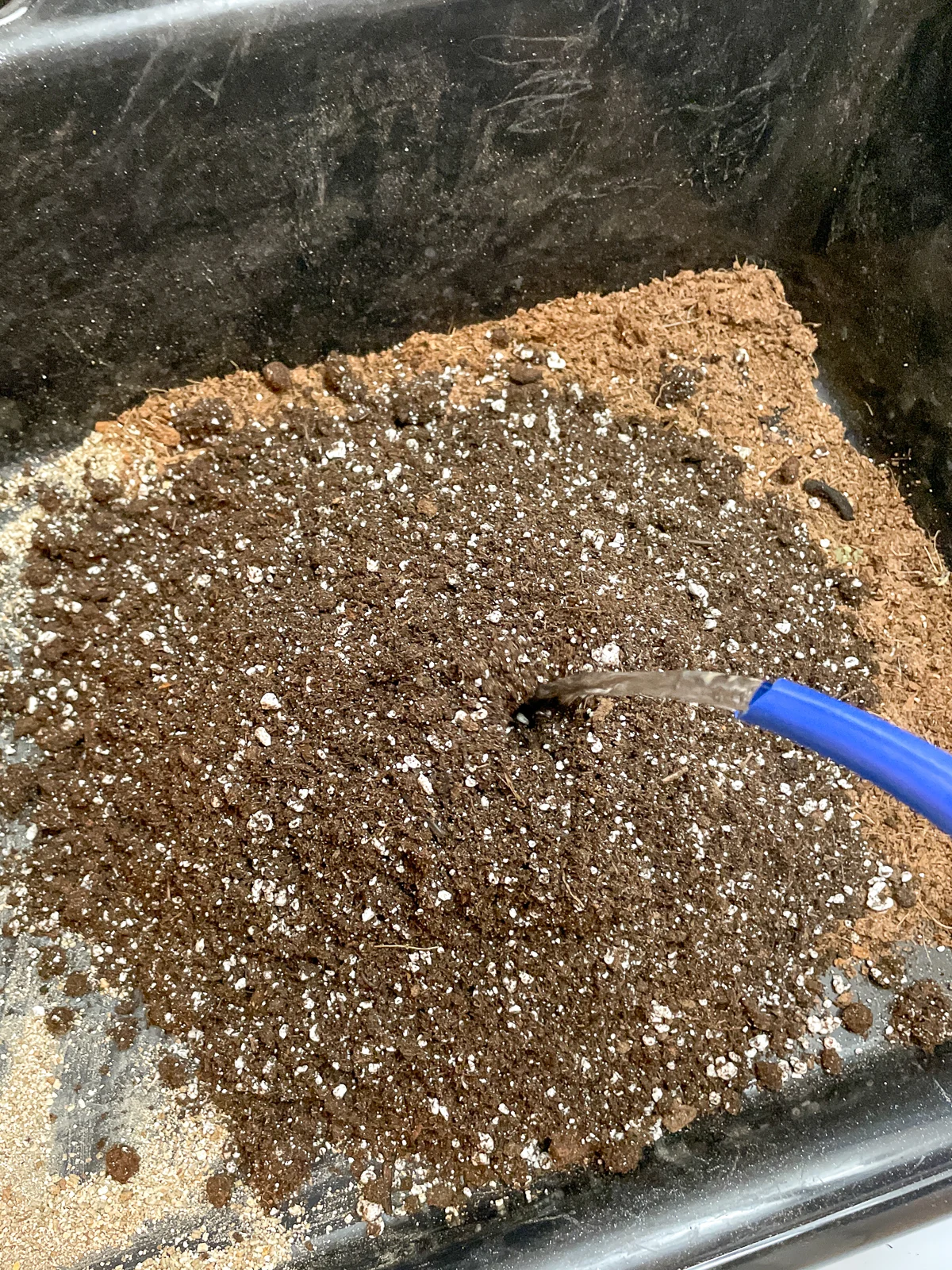 Fill each cell of a clean and sanitized seed tray with soil, then press down lightly to remove air pockets. Top off the tray with more soil as necessary.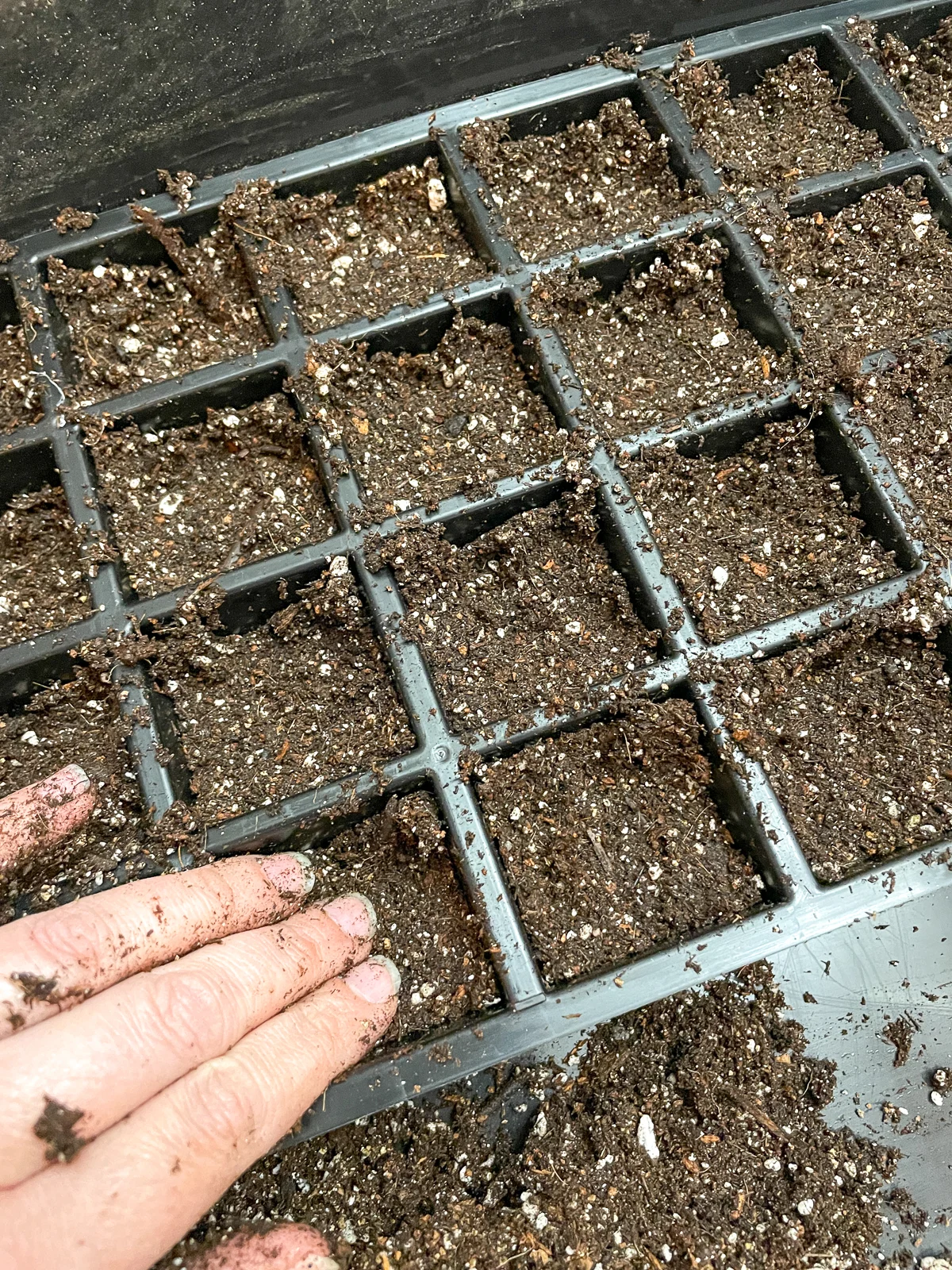 Plant the yarrow seeds
Yarrow seeds need light to germinate, so just sprinkle 2-3 seeds per cell. You can add a fine layer of vermiculite over the surface of the soil to help retain moisture, but don't add too much or it could block the light.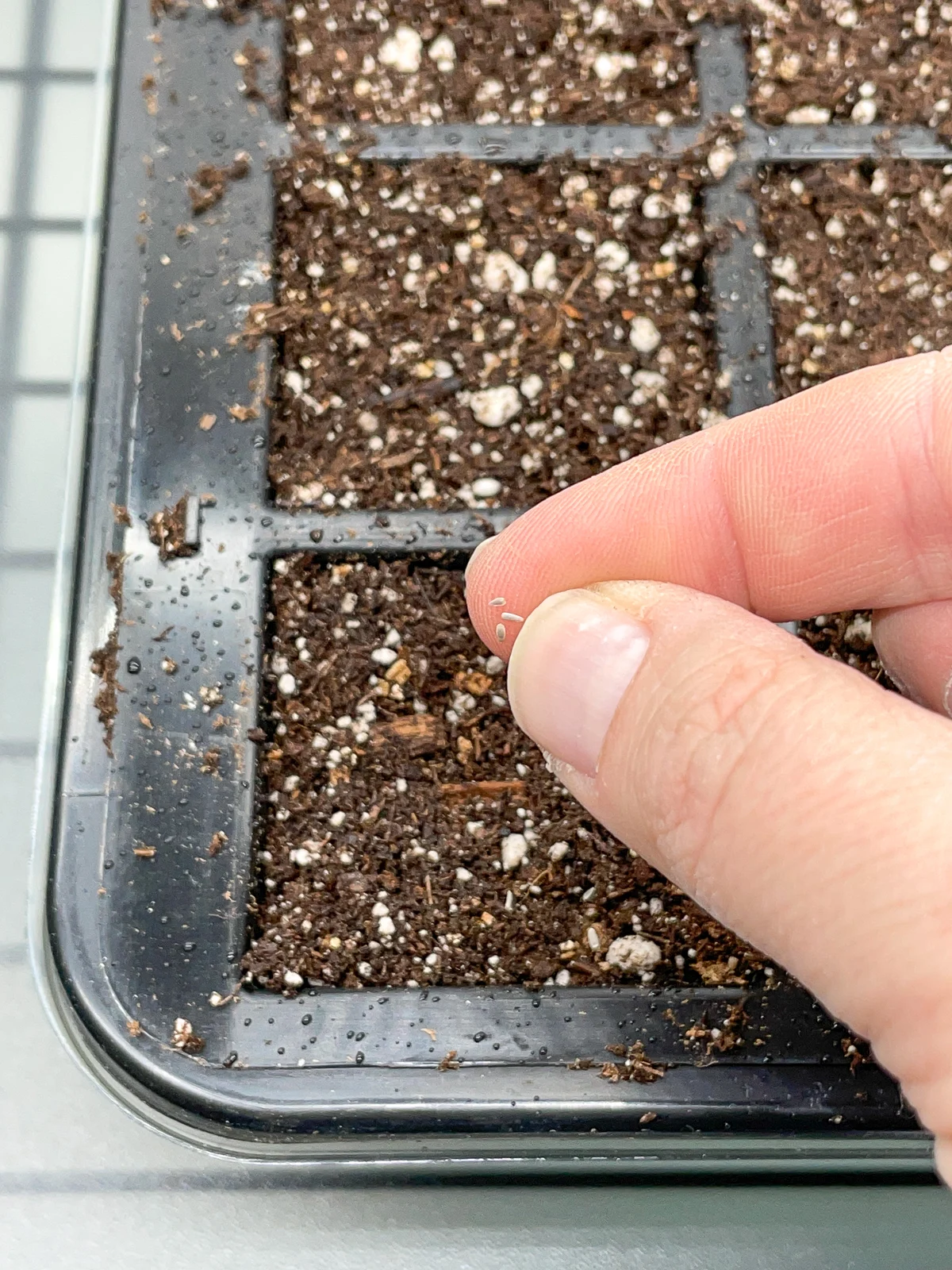 Light, water and temperature requirements
Give the seed tray a quick mist with a pump sprayer to settle the yarrow seeds into their new home. I'm using bottom watering seed trays that keep the soil moist even if I forget to water, but I still mist the surface once a day so it doesn't dry out.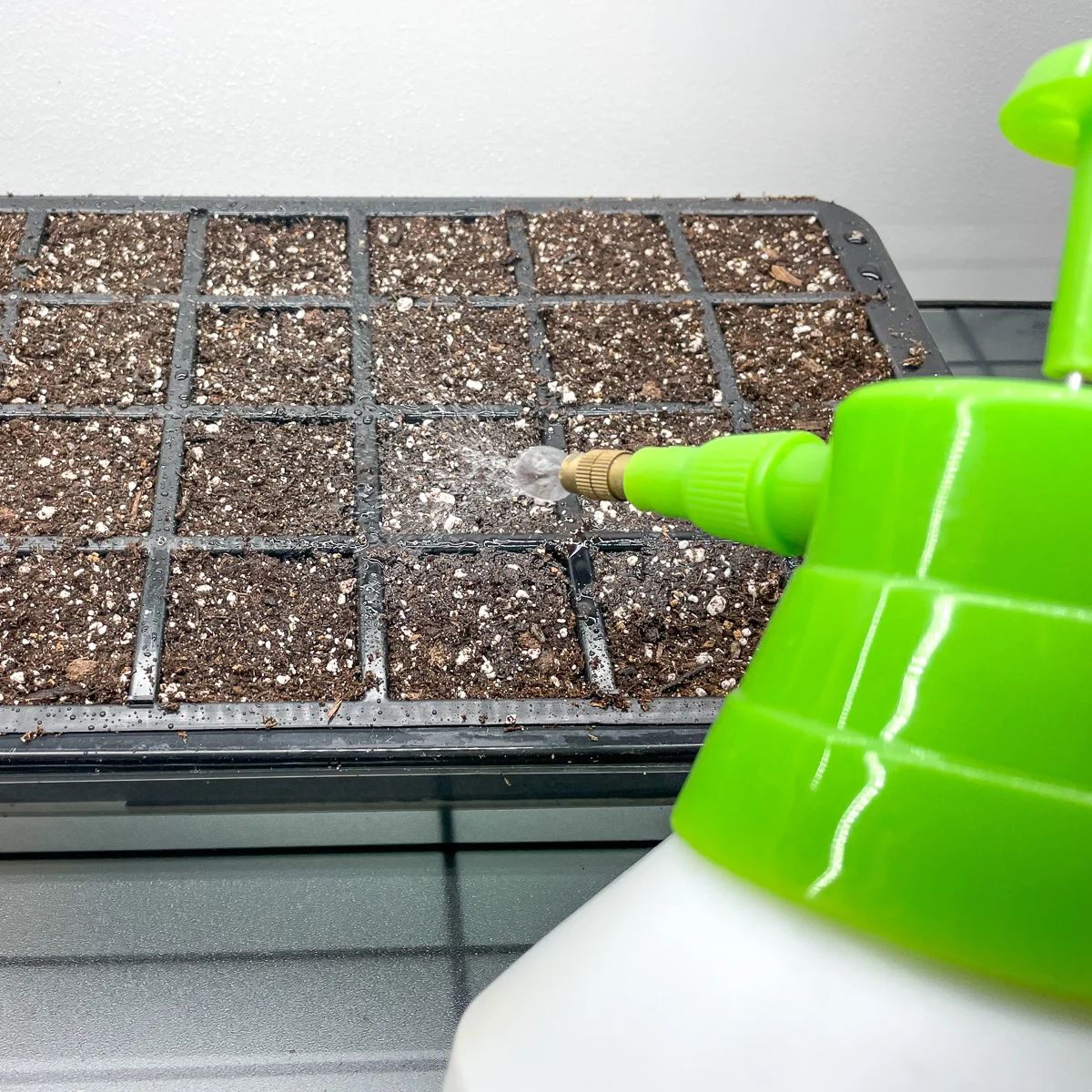 Place a humidity dome over the tray until the seeds germinate. I split this tray with the dianthus seeds I recently planted, since they have the same temperature requirements and germination time.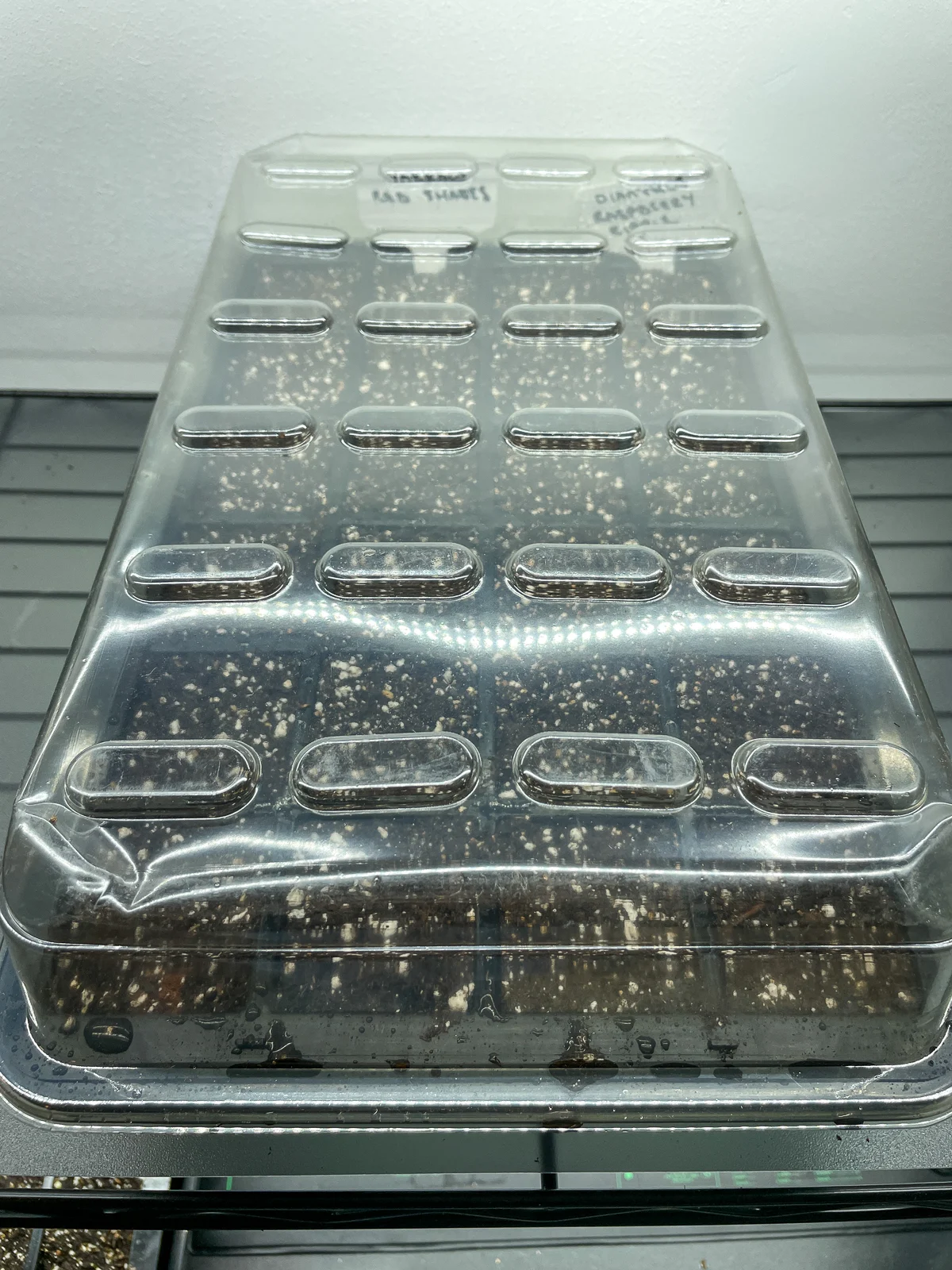 Yarrow seeds germinate in 10-14 days at room temperature, so they won't need a heat mat unless your space is colder than 65 degrees F. My seeds were overachievers, because they sprouted in just TWO DAYS!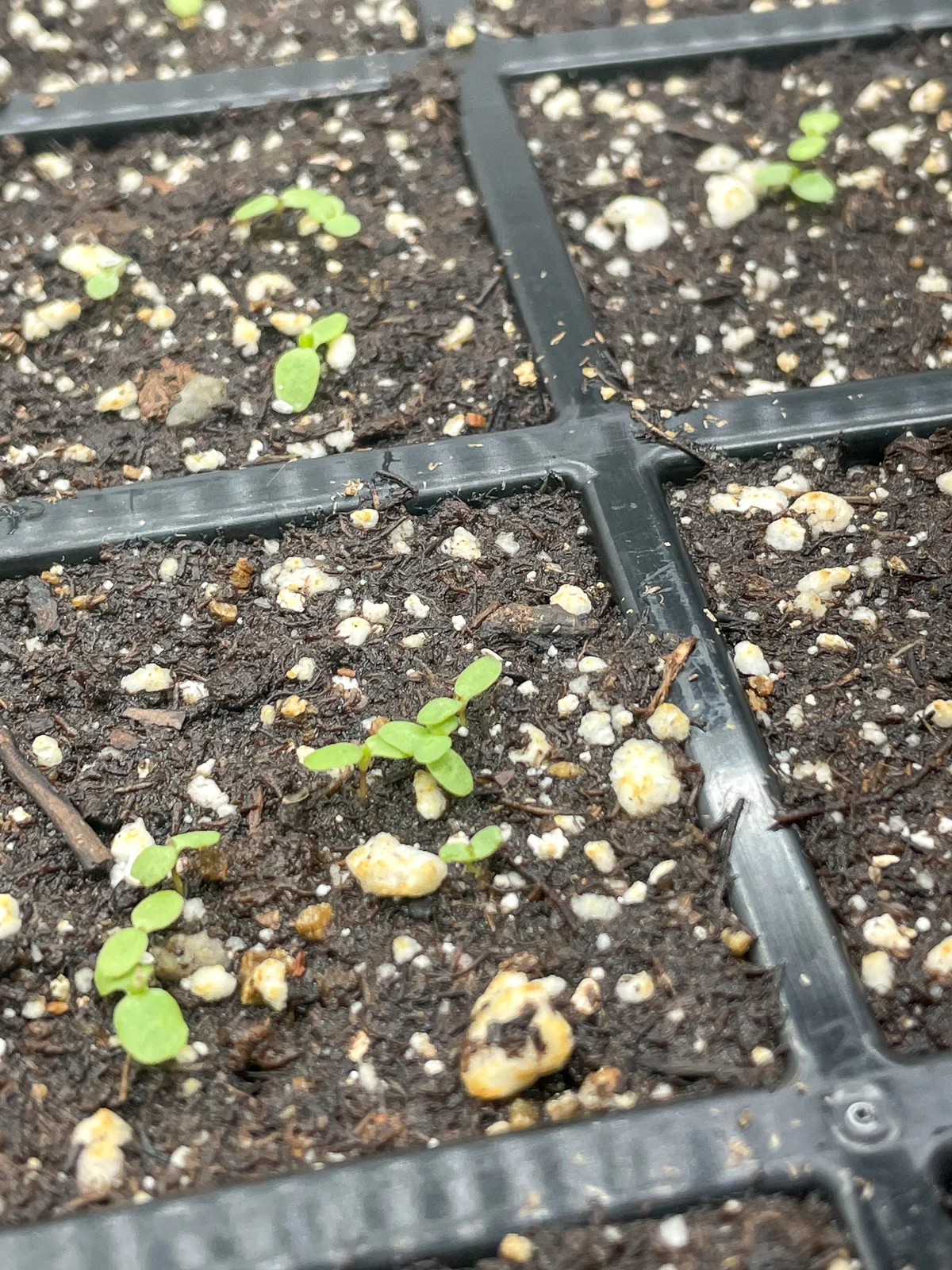 Keep your seedlings indoors for 8-10 weeks at 55 to 65 degree temperatures before hardening off outdoors in spring. Check out these photos to see what yarrow seedlings look like every few weeks until they're transplanted into the garden!
How to grow yarrow from seed outdoors
If you missed your window to start yarrow indoors, you can wait until after your last frost date and direct sow the seeds outdoors instead. You can do this anytime from late spring to early summer.
Sprinkle the yarrow seeds on the surface of well-draining soil in direct sun. If you don't want to thin the seedlings later, spread them out 12-24" apart.
---
I can't wait to see these beautiful flowers out in the landscape this summer!