Saxifraga "Dancing Pixies" is an evergreen groundcover that produces tiny fuchsia blooms in fall when the rest of the garden starts to fade!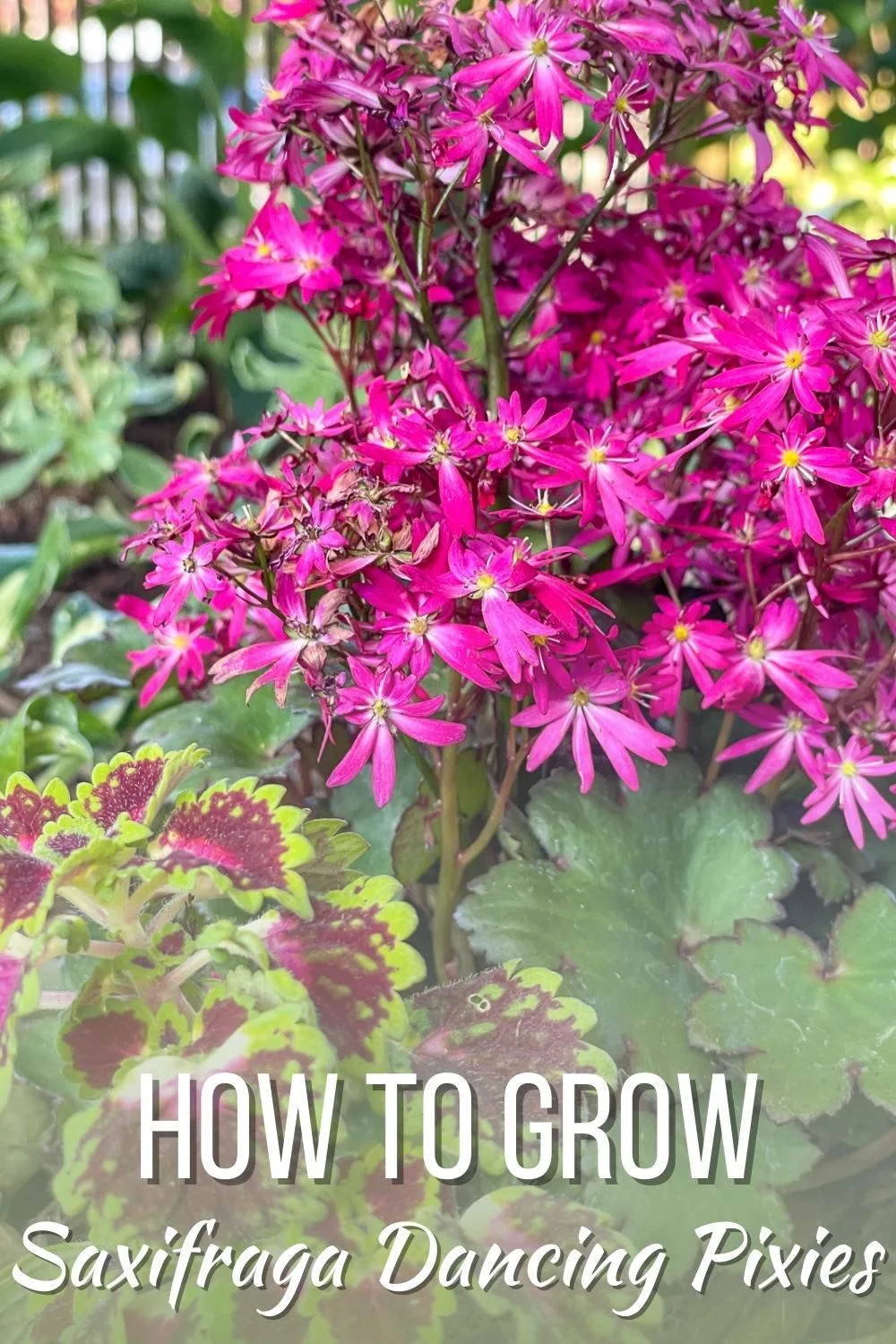 When fall rolls around, it seems like the garden is full of warm oranges and yellows. But if you're like me, and you love a bright pop of pink, this is the plant for you!
I stumbled across a tray of Saxifraga Cortusifolia Dancing Pixies when I was picking up some Allium bulbs at my local nursery for my fall planting project. The hot pink color really stood out next to the autumnal tones of the mums nearby, and I just had to buy a few!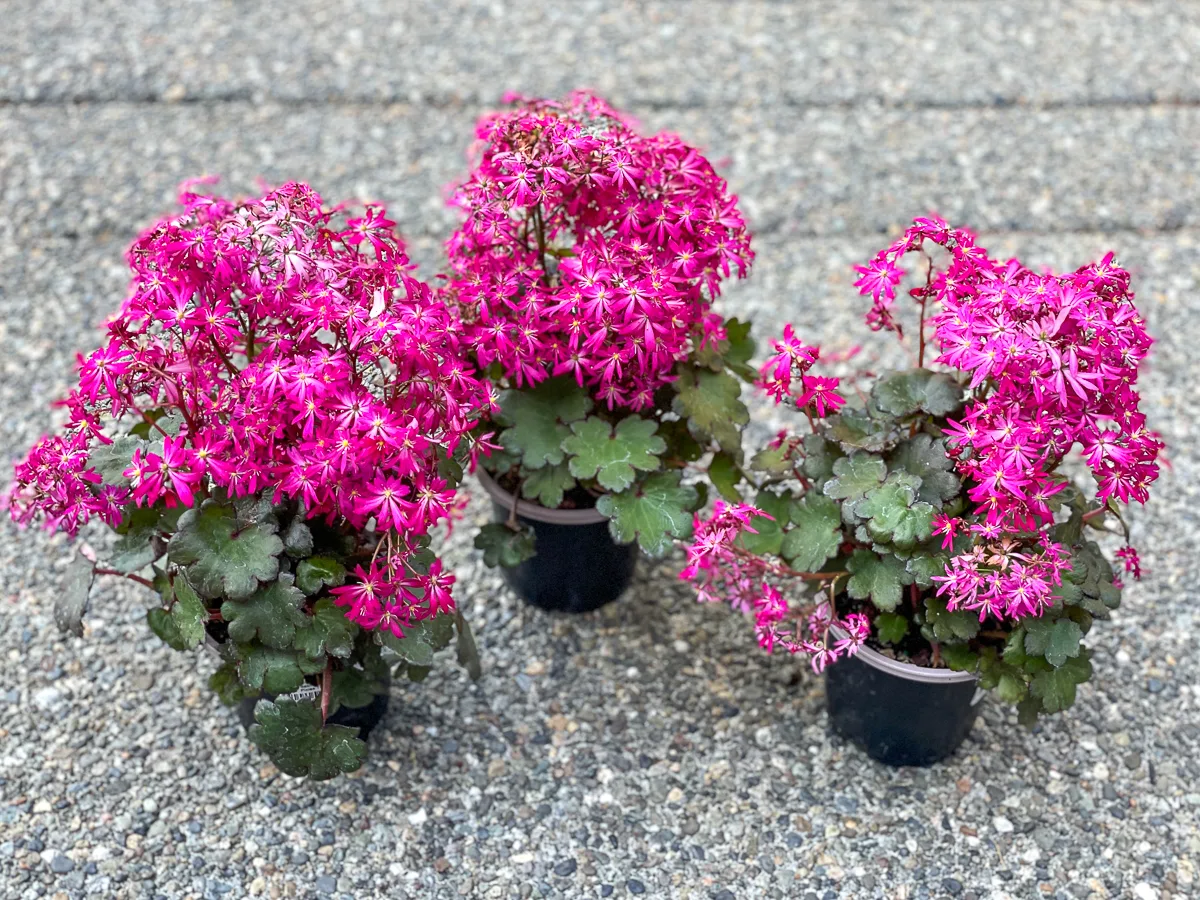 Here's how to incorporate this beautiful plant into your garden!
This post contains affiliate links for your convenience. Purchases made through these links may earn me a small commission at no additional cost to you.
Plant Characteristics
Saxifraga cortusifolia Dancing Pixies 'Taja' is a perennial evergreen, with deeply lobed leaves with dark purple margins. In late summer and early fall, it produces bright pink flowers on reddish stems that are taller than the surrounding foliage.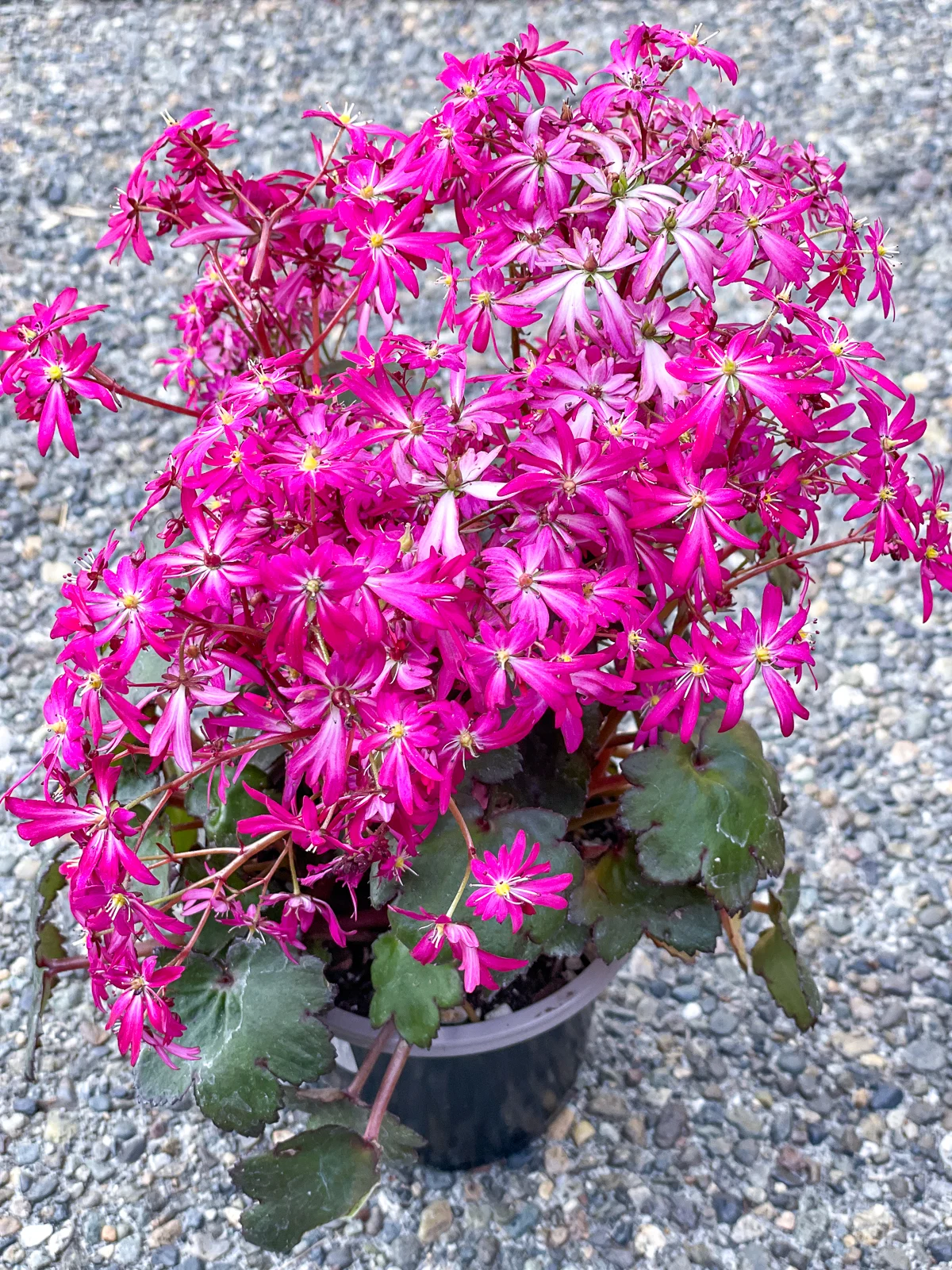 It's hardy to Zone 8, and prefers part shade. The blooms stay fairly short, with a height and spread of just 10 inches. It makes a great border in a shady garden bed, or can be grown in containers.
How to Plant Saxifraga Dancing Pixies
Choose a location that gets 4-6 hours of sunlight a day and has rich, moist soil. I decided to plant mine on the outside edge of the shade cast by our Japanese Maple tree, amongst this coleus ground cover called "Lava Rose." The bright pink in the Coleus leaves pairs beautifully with the blooms of the Saxifraga.
Dig a hole slightly deeper and wider than the pot, so the soil around the root ball will be loose. I always throw in a handful of Biotone starter fertilizer into the hole before planting. It contains mycorrhizae, which stimulates root development in your new plant.
Even though it's already mid-October, I've kept my drip irrigation system running every day. There was already a line running next to the spot I wanted to plant, which is always a bonus! Learn more about drip irrigation pros and cons in this article!
If you have hard water, drip irrigation will prevent those white spots from forming on the leaves like you see below.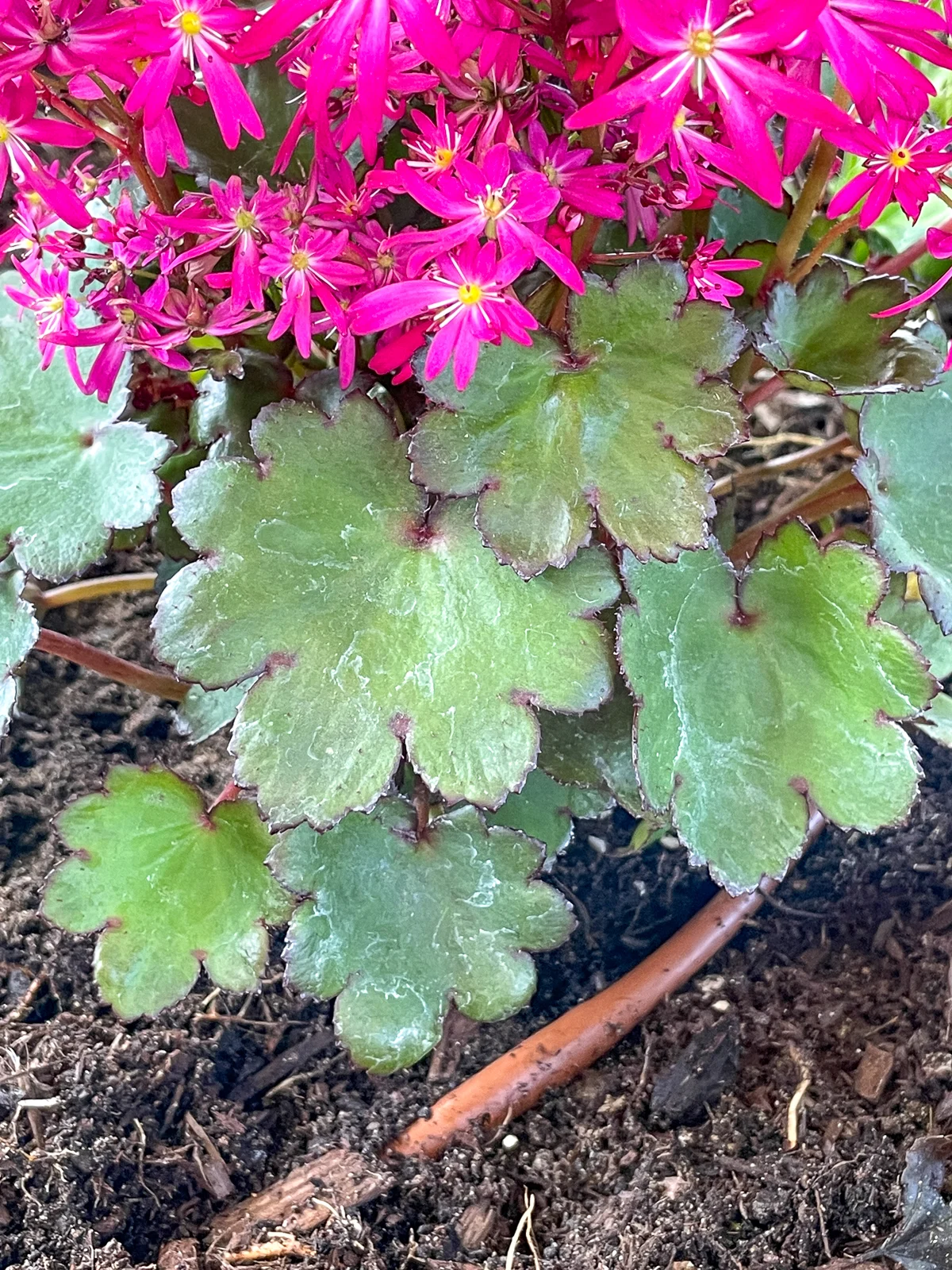 They receive fifteen minutes of water from a 1 gallon per hour emitter, which should be plenty to keep these plants happy. I also gave them all a good soak right after planting to settle the soil.
Companion Plants
Pair Saxifraga cortusifolia with other part-shade loving plants, such as coleus or hostas. I already had both in this area, along with the Pachysandra I just added under the tree.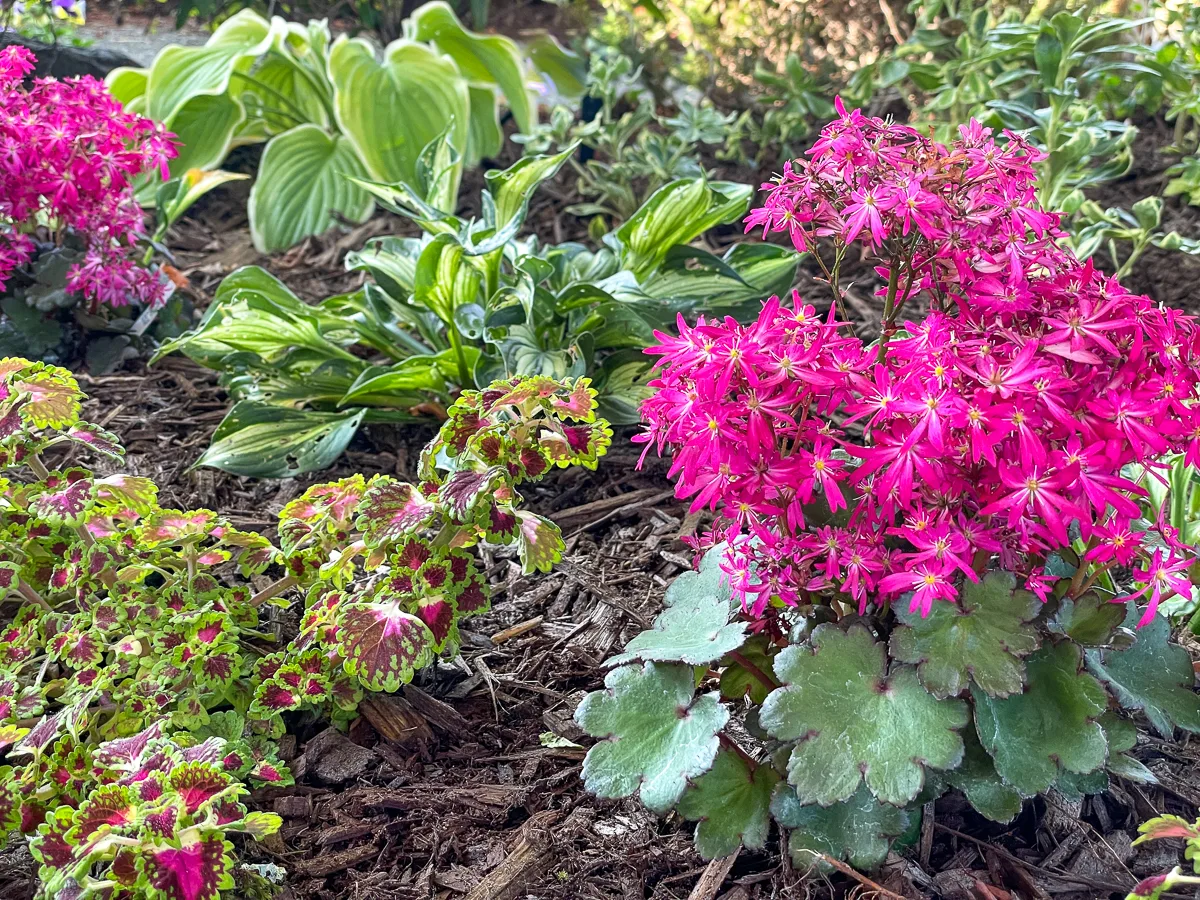 Even though the coleus will die off after the first hard frost, I plan to plant more of this exact variety next year. It looked a little out of place before, but this new addition ties it all together!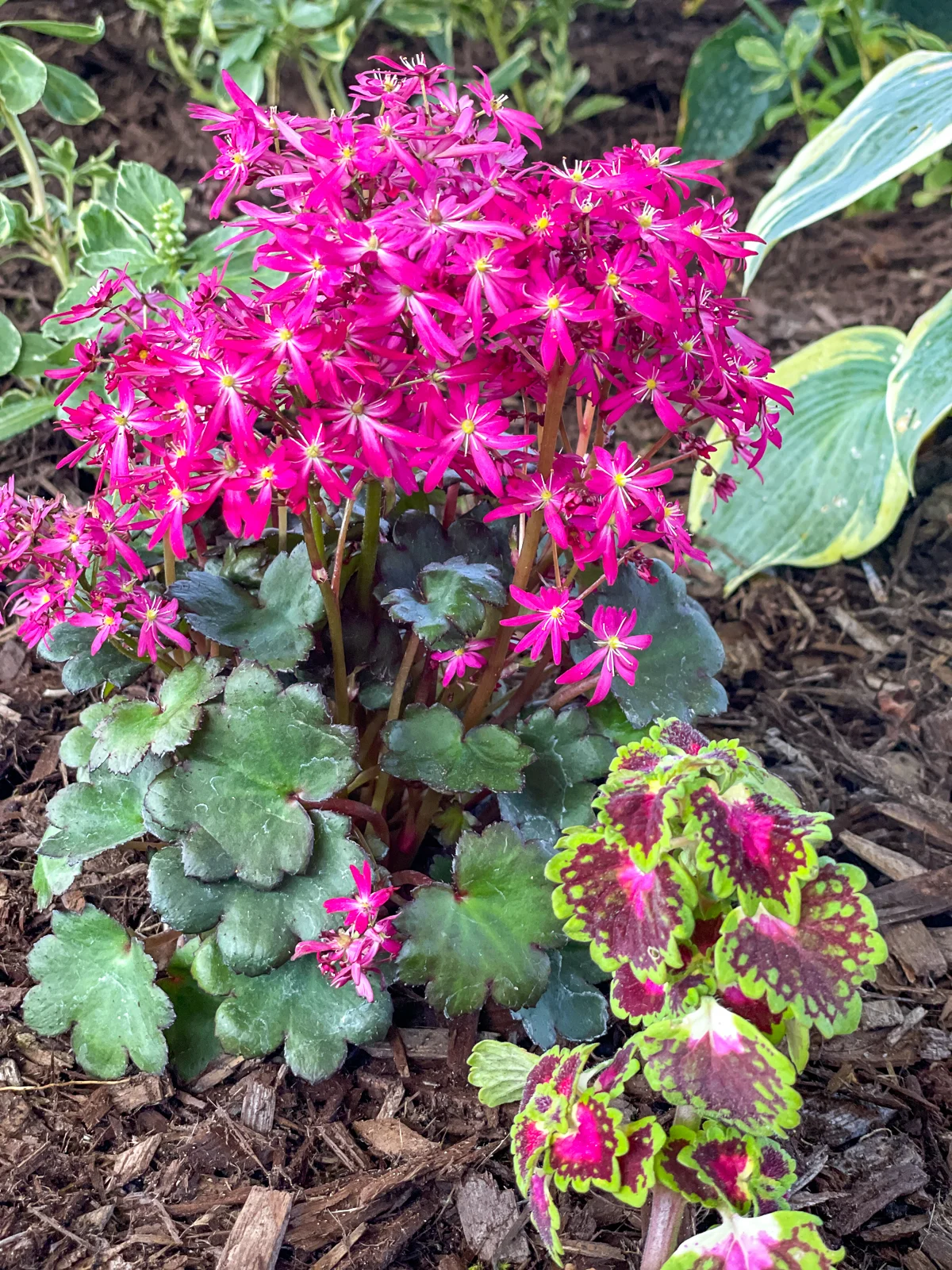 Check out these other flowers that bloom in the shade if you prefer flowers to foliage. Fuchsia would look great with your new Saxifraga plants!